For affiliate links and as an Amazon Associate I earn from qualifying purchases.
"We get by with a little help from our friends." Yes, I'm slightly paraphrasing that line from one of The Beatles' classics, A Little Help from My Friends. But we all know that sometimes a little help from our friends is exactly what does help us "get by" when we're going through challenging times. Thank goodness for those friends and family members who get us through!
Many of you have "gotten by" many times with "a little help" from Jules Shepard. Jules has been helping others from the moment she learned how to live gluten free herself after her celiac diagnosis in 1999. She became well known—and well loved—in the gluten-free community when she created a gluten-free all-purpose flour mix that could be a substituted cup for cup for gluten-full all-purpose flour. She started her own company, Nearly Normal Cooking, and eventually brought on partners to help manage her business, at which time the company was renamed to Jules Gluten Free.
However, Jules is no longer part of Jules Gluten Free. She resigned a little over a month ago, sharing the announcement in a video. Why? Well, the short version of this all too true story is that the company became one that did not allow Jules to serve the gluten-free community the way she always had. Furthermore, her business partners, who owned a total of 50% of the company as she did, were not interested in pretty much any direction she wished to go. She wanted to dissolve the company to pursue her own path with the product formulations (and more) that she created. Her partners said no to all her proposals and instead wanted to push her in directions that she was not interested in.
Since her resignation, her former partners have made untrue allegations, some of which they shared with her customers via email, and even canceled her personal order for her flour mix which she planned to use to make her own wedding cake (Jules is getting married this Friday—congrats, Jules and Jeff!). Therefore, Jules has had to go to court to pursue reclaiming her own flour mix and other product formulations and move on with her new company, Gluten Free Jules, gfjules for short.

Jules has been there for us from the beginning.
~ Jules was there for us as soon as she figured out how to make gluten-free living easy and delicious by publishing her first cookbook Nearly Normal Cooking for Gluten-Free Eating: A Fresh Approach to Cooking and Living Without Wheat or Gluten. Although a simple, unsophisticated book compared to her later publications, it features many naturally gluten-free recipes as well as lots of community favorites, and remains very popular and well rated.
~ Jules was there for us when we first went gluten free by offering a flour mix that worked. That meant we didn't have to purchase and store multiple flours, starches, xanthan gum, etc. We could simply buy her flour and swap it out "one for one" for flour in our favorite baking recipes to make them gluten free.
~ Jules was there for us when our first loaf of homemade gluten-free bread didn't work as expected and we needed some pointers—well, lots of pointers!—on how to excel at gluten-free breadmaking. In fact, whatever question we had, Jules was there for us. She always replies to questions online and shares tutorials and ebooks to get us through breadmaking, the school year, Thanksgiving, Christmas, and much more.
~ Jules was there when we had glorious gluten-free successes and just had to tell her about them. She has always shared our gluten-free baking and cooking successes by sharing our photos online and celebrating with us!
~ Jules was there for us offering support not just in baking, but in all areas of going gluten free with her book The First Year: Celiac Disease and Living Gluten-Free: An Essential Guide for the Newly Diagnosed.
~ Jules was there for us when we told her that we needed more than "just gluten-free" recipes. She responded with Free for All Cooking: 150 Easy Gluten-Free, Allergy-Friendly Recipes the Whole Family Can Enjoy, a terrific cookbook that gives you dairy-free, egg-free, and more-free options in every recipe.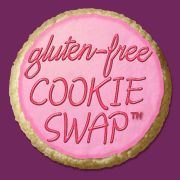 ~ Jules was there for us at Christmas not only with a special ebook, but also with The Gluten-Free Cookie Swap, which she founded and hosts each year. When we were sure Christmas cookies would never be the same after going gluten free, she pulled everyone in the gluten-free community together to show us that, yes, you can still make amazing Christmas cookies—even the cookie recipes we've always loved, but now they're gluten free and safe! And the Cookie Swap gave us a bunch of new gluten-free cookie recipes, too. Not only does the event offer us great recipes, but it also offers some wonderful prizes to winning entrants. Some of the winners have been bloggers who in turn have used their prizes (e.g., a breadmaker) to create more recipes to share with us!
~ Jules was there for us when the FDA was not moving forward on their promise to enact gluten-free labeling. She and John Forberger, her cofounder of 1 in 133, rallied the entire gluten-free community including not only gluten-free individuals but also the several major gluten-free organizations, to work together in appealing to the FDA. The initial culmination of months of planning included an event that featured the world's tallest gluten-free cake and the appearance and participation of a key FDA representative who committed to getting gluten-free labeling requirements defined and in place. The final culmination of gluten-free labeling happens in August of this year. Again, Jules was there for us. All of us.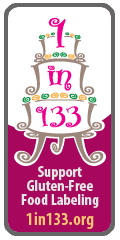 ~ Jules was there for us when a major gluten-free organization was proceeding with a gluten-free designation that misled gluten-free individuals and put them at risk. Jules co-led a relentless effort to get the organization to pull their designation and ultimately they did. Her commitment to us, the gluten-free consumers, has been steadfast. She has never backed down when situations became challenging.
~ Jules was there for us by launching her radio show, The Gluten-Free Voice. On this weekly show, she covers the topics we want to hear more about or need to hear about, such as Best New Gluten-Free Products, 6-Month Check Up After Celiac Diagnosis, Dining Out Safely, and Arsenic in Rice.
~ Jules was there for us at gluten-free expos, gluten-free conferences, gluten-free fairs, and gluten-free support group meetings all over our country. Even as she's been dealing with this turmoil and stress in her life, she has not missed an opportunity to be there for us. I caught up with her earlier this month when we were both in Orlando for the Gluten-Free Living Conference, where she presented to bloggers at the Blogger U. on one particular day and later to all conference attendees in the closing panel.
Quite often it has seemed like Jules must be in more than one place at once as she has criss-crossed across the country to participate in all these events, meet us, and lend her support with baking/cooking/gluten-free lifestyle tips. I actually met Jules the very first time in a local airport when she was on her way to an expo, shortly before the 1 in 133 event. We live about 2 hours apart, but had to meet in person as she was heading off to represent the gluten-free community at yet another event. Irony, but reality for sure!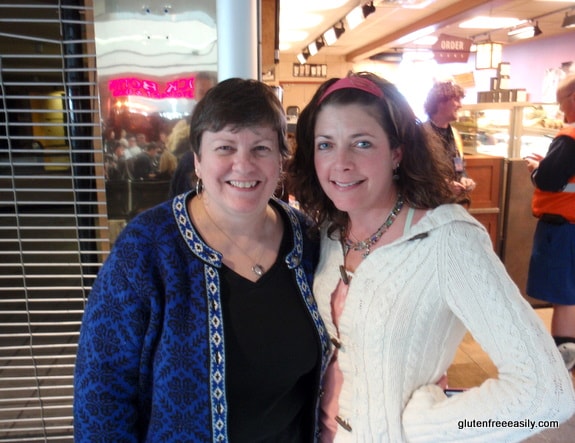 Meeting "in real life" helped cement our personal friendship, but Jules has always offered her support to everyone with a big smile and a heartfelt hug, and we appreciated that. Jules has simply been our friend from the beginning.
~ Jules has been there for us in other ways that are "behind the scenes," but still powerfully positive for our gluten-free community. For example, year after year, at the request of Dr. Alessio Fasano (head of the Center for Celiac Research and Treatment), she has educated medical students on celiac disease and living gluten free. If you're one who waited years for a celiac or non-celiac gluten sensitivity diagnosis and sought help from many doctors, you know just how critical such training could prove to be. "Doctor #1" might be someone who heard Jules—and Dr. Fasano—speak when he was in medical school and, as a result, answers for us and other loved ones will come sooner.
I could go on, but I think you get the picture and chances are if you've ever had any contact with Jules at all—in person or online—you don't need me to tell you how Jules has been there for all of us.
The bottom line—and why I'm focusing on Jules and all she has given us today—is that in pursuing legal action against her former partners (which is the only way she can reclaim her product formulations/rights) and moving forward/rebuilding via her new company, Gluten Free Jules at gfjules.com, Jules needs your help.
Visit her new website here to find out how you can help. There are varying levels of support you can offer and they'll all be appreciated by Jules and will keep her "there for us." It's really very easy to offer your support. I already have, so please join me in giving back to our friend Jules.
We can't possibly repay all that Jules has done for us, but in giving Jules a "little help" we're not just helping Jules, we're helping her continue to be there for us and the entire gluten-free community. Please offer your support here.

Thanks so much!
Originally published April 27, 2014; updated September 25, 2017.