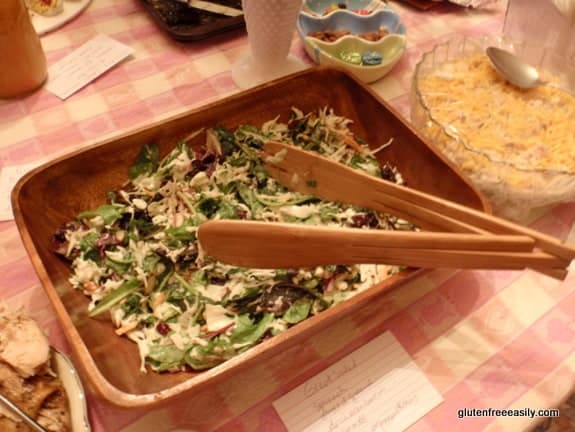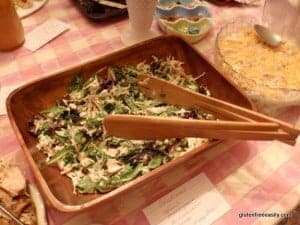 Great Salad
This is the salad that works for every occasion. You can even take all the ingredients to a friend's house and make it on the spot. It's that easy to make! And everyone will want the recipe because it's that good, too!
Ingredients
1 bag of Romaine (I used 1 box of organic, I've also used spring mix, butter lettuce, and other greens when Romaine was not available)
1 bag of spinach (I used 1 box of organic, see note above on using other greens if spinach is not available)
1/2 bag three-color cole slaw mix (shredded green cabbage, red cabbage, and carrots)
1 small package slivered almonds (sliced almonds also work)
1 small package Craisins (original flavor is gf per my research) or equivalent amount of dried cranberries
up to 1 bottle Briannas poppy seed dressing or equivalent amount of homemade poppy seed dressing (I use just enough to lightly dress my salad greens today)
Instructions
Mix all together except Craisins/cranberries. Sprinkle those over the salad once mixed (otherwise, they tend to sink to the bottom) and serve.
This salad is best eaten immediately, but it will keep fairly well for up to 48 hours (if there is any left!).
Notes
Briannas poppy seed dressing is not certified gluten free, but the label says "No Gluten" and I find no ingredients of concern there. It's also listed on Brianna's website as gluten free.Easy salad recipes are a great way to get kids involved in the kitchen. Usually when they participate in making something, they feel that "pride of ownership" and will excitedly dig in, as well as promote the merits of their dish to everyone else! Even more than one child can help make a salad like this one...one adds the spinach, one adds the romaine, and so on.Enjoy!
Courses Salad
Recipe by gfe--gluten free easily at https://glutenfreeeasily.com/a-little-crunch-of-cabbage/