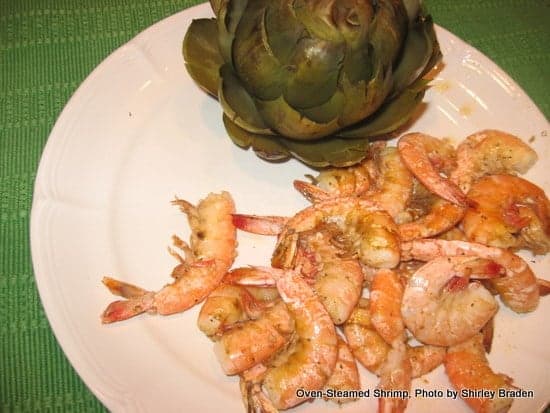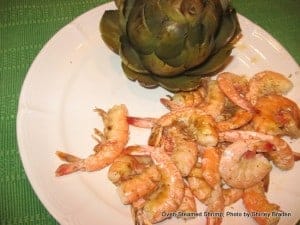 Oven-Steamed Shrimp (Naturally Gluten Free)
Such few ingredients and so little time and effort required to make these totally delicious, naturally gluten-free Oven-Steamed Shrimp!
Ingredients
3 pounds shrimp, with shells on
8 tbsp butter (or 6 tbsp olive oil) (adjust amounts to taste)
3 tbsp chopped garlic (I use minced in the bottle; I am lazy)
4 tbsp Old Bay seasoning (adjust amounts to taste, or optional: if you like "plain," just skip)
Instructions
Preheat oven to 450 degrees.
Rinse and drain shrimp. Arrange in a single layer on a large, rimmed baking sheet. (Note: You don't have to be a fanatic about this. I did not have a single layer last night. I just made sure to coat shrimp well and turn so both sides were cooked properly.)
Melt butter (or warm the olive oil) in saucepan, adding garlic to sauté a few minutes. (I just used the microwave for about a minute.)
Pour butter (or olive oil) over the shrimp and stir to coat well. Sprinkle about half the Old Bay over the shrimp.
Bake until shrimp are pink, about 5 minutes. Use a spatula or tongs to turn the shrimp. Sprinkle with the remaining Old Bay, and bake another 2 to 3 minutes. Serve immediately.
Notes
These only take about 15 minutes of prep/cook time before eating. Adjust recipe to amount of shrimp you want to eat. (We usually make two pounds, and it still lasts for several meals.)
If you use frozen shrimp, just run cold water over them until they separate. Larger shrimp and slightly frozen shrimp, like the extra jumbo ones I use, will take a minute or two longer to cook on each side. Just look for that nice pink look and the fabulous smell that says they are ready to eat. Of course, test one if necessary.
Adapted from recipe by Paula Deen
Recipe by gfe--gluten free easily at https://glutenfreeeasily.com/a-perfect-meal-oven-steamed-shrimp/