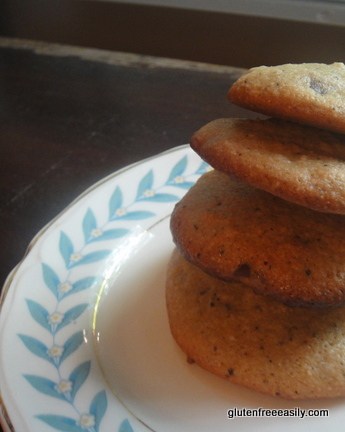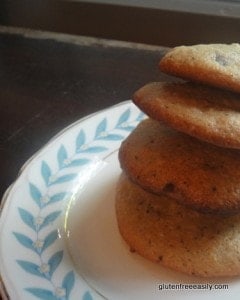 Grain-Free Almond Coffee Chocolate Chip Cookies
This delightful gluten-free, grain-free cookie recipe adds "raw" coffee to chocolate chip cookies. You'll see how brilliant that idea is as soon as you eat one! 
Ingredients
2 ½ cups blanched almond flour
1 tbsp freeze-dried regular or decaf coffee (I emptied the coffee from one Folgers decaf coffee single bag; no judgment please)
½ cup granulated sugar (see notes for refined sugar-free option)
½ cup dark brown sugar (see notes for refined sugar-free option)
½ tsp sea salt
4 large eggs (or 3 jumbo eggs)
1 ½ tsp vanilla extract
½ tsp ground cinnamon
½ cup chocolate chips (gluten free and dairy free, like Enjoy Life dark chocolate morsels, minis, or mega chunks)
Instructions
Preheat oven to 325F degrees. Line two baking sheets with parchment paper.
In large bowl, add eggs and slightly beat using a wooden spoon.
Stir in vanilla extract, coffee, and cinnamon.
Add almond flour, sugar, and salt. Mix with a wooden spoon.
Add chocolate chips; stir until incorporated.
Drop batter by rounded tablespoonfuls onto prepared baking sheets. Use a spoon to spread the batter out slightly into circles as cookies will not spread much during baking.
Bake for about 10 to 15 minutes until golden brown. Leave on baking sheets for 5 to 10 minutes. Remove to cool.
Notes
Coconut sugar or palm sugar may be substituted for both types of sugar—that's one cup total in place of both the granulated and brown sugar. That amount could be adjusted downwards a bit, too, for folks who are used to less sweetener in their baked goods.
This recipe was adapted from Healthy Green Kitchen.
Recipe by gfe--gluten free easily at https://glutenfreeeasily.com/almond-coffee-chocolate-chip-cookies-gluten-free-grain-free-dairy-free/