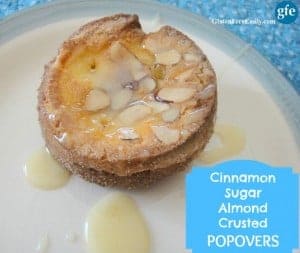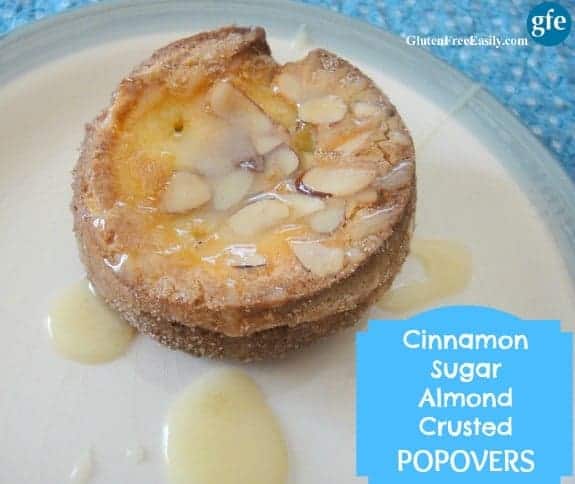 Cinnamon-Sugar-Crusted Almond Popovers
Ingredients
For the popovers:
2 tablespoons butter, melted (non-dairy should work)
3 large eggs, at room temperature
1 cup milk (whole, 2 %; non-dairy milk works, too)
1 teaspoon salt
1 1/2 teaspoons sugar
1 cup gluten-free flour mix (I used my Two-Ingredient Gluten-Free Flour Mix)
1 tsp xanthan gum
For the topping:
about 1/3 cup of sliced almonds (optional)
For the sugar coating:
1/2 cup sugar
1 teaspoon ground cinnamon (more or less depending how much you like cinnamon)
For dipping:
1/4 cup melted butter in small bowl
Softened butter, for greasing the pan (I always just use a butter wrapper.)
Instructions
Preheat the oven to 400º F. Grease a nonstick popover or muffin pan (with 1/2-cup indentations), with softened butter.
For the popovers, put the 2 tablespoons melted butter, eggs, milk, salt and sugar in a blender and blend for a few seconds.
Add the flour and blend for about 10 seconds, just until smooth.
Pour into 9 greased molds, filling each about 2/3 full.
Sprinkle each with about a teaspoon of sliced almonds.
Bake for 35 minutes, or until the popovers are golden/deep brown. (I do my usual toothpick doneness test.)
Toward the end of the baking time, you'll want to get ready for the popovers by creating a little assembly line for final processing. Melt butter in a small bowl and place on your work space. Mix cinnamon and sugar in another small bowl and place to the right of the butter. Place plate or napkin-lined basket to the right of the cinnamon-sugar bowl.
Remove popovers from the oven. At this point, you can wait a few minutes until they are cool enough to handle or you can do what an impatient person (that would be me!) does. I stick a toothpick in each popover, remove it from the pan and follow an assembly line process. Dip the popover in the bowl of melted butter rotating until bottom and sides are buttered. (Alternatively, you can brush the butter on the popovers using a pastry brush.) Keep the popover on the toothpick and dip into the bowl of cinnamon-sugar. Roll bottom and sides into mixture. Place on plate or in napkin-lined basket. Each one is a warm, buttery, cinnamon-sugar bundle of goodness ready to eat!
Notes
 I adapted this recipe from David Lebovitz's Sugar-Coated Popovers recipe (an adaptation of an earlier recipe of his shared both in the New York Times and this Maida Heatter cookbook).
That last photo is actually of recovered, "mistake" popovers that I made during our last snowstorm. As soon as I popped the muffin pan into the oven, I saw the bowl of melted butter sitting on the counter. I had gotten distracted by a couple of "brown-outs," while preparing the batter.
Long ago, I might have scrapped the whole batch and started anew. Not any more ... I set the muffin pan on the stove and spooned a little melted butter into each muffin cup and gave a tiny stir, then replaced the muffin pan in the oven and baked per usual. As you can see, the popovers suffered no ill effects.
I also had forgotten to allow the eggs to come to room temperature. No worries ... the recipe still worked fine. The popovers might have turned out a teeny tiny bit better if the eggs had been at room temperature, but we certainly didn't find anything to complain about.
Recipe by gfe--gluten free easily at https://glutenfreeeasily.com/almond-popovers/