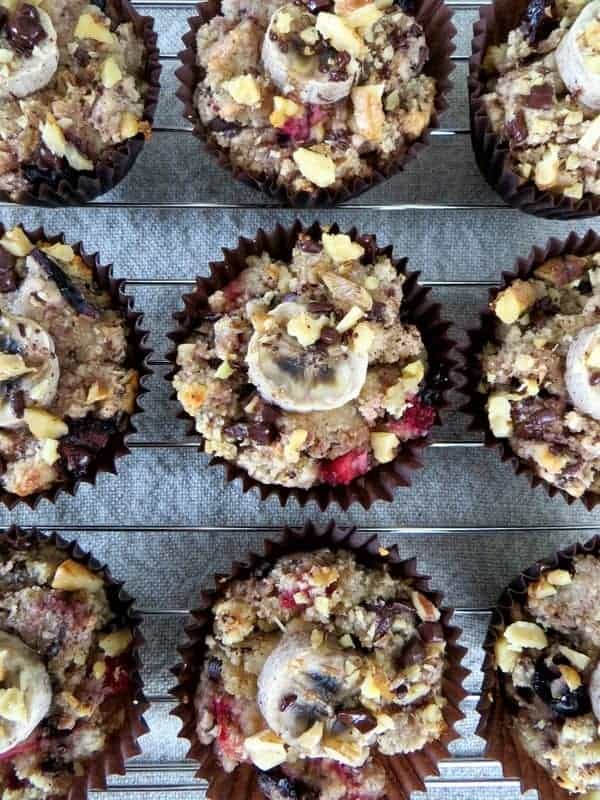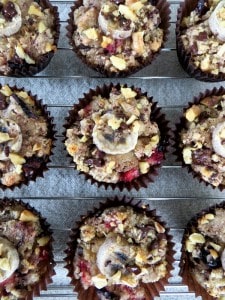 Gluten-Free Banana Split Muffins
Instructions
Preheat the oven to 350 F, and fill a 12-cup muffin tin with paper baking liners. In a large mixing bowl, combine the almond flour, ground oats, sea salt, and baking soda.
Whisk together the melted coconut oil, maple syrup, and vanilla in a smaller bowl, and then add the wet ingredients to the dry ingredients. Stir well to combine. (The mixture will be somewhat dry and crumbly.)
Add the mashed bananas and the chia seed gel to the mixture and stir until a thick, uniform batter forms. Fold in the strawberries, cherries, walnuts, and dark chocolate.
Divide the batter evenly between the 12 lined muffin cups. Place a banana slice on the top of each muffin and sprinkle some additional chopped walnuts and dark chocolate on top. Bake in a preheated oven for 30 minutes. Cool and serve.
Notes
I used frozen fruit that I let thaw just enough to be able to chop it into pieces.
This recipe is gluten free, dairy free, egg free, with refined sugar-free and vegan options (depending upon the chocolate used in the recipe).
Courses Dessert, Breakfast
Recipe by gfe--gluten free easily at https://glutenfreeeasily.com/banana-split-muffins-pocketfuls/