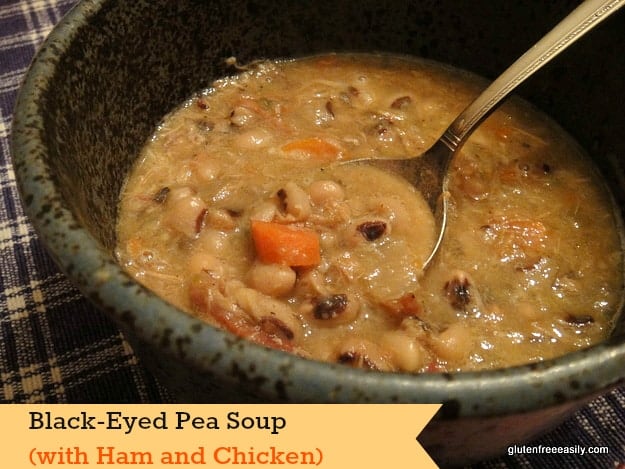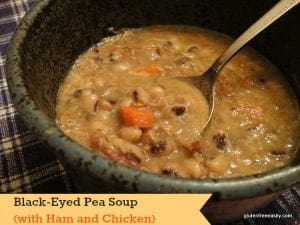 Slow Cooker Black-Eyed Pea Soup (with Ham and Chicken)
Ingredients
1 pound dried black-eyed peas (I don't recommend using canned as a substitution, but fresh or frozen would work well)
1 ham bone (ideally, with some meat remaining on it)
2 cups, cut-up chicken
2 diced onions
2 cups diced or sliced carrots (I prefer slices, but I halve the larger slices)
1 cup diced celery
6 cloves garlic (I used 3 tbsp minced garlic)
6 – 8 cups of chicken broth (I used my homemade broth and just kept adding until my crockpot was almost full)
1/2 tsp Italian seasoning
1 tsp coarse sea salt (any salt will work though)
Instructions
Soak your beans overnight. Drain and pick out the undesirables (e.g., discolored beans) in the morning.
Use a 5- to 6- quart crockpot. (I used my 6-quart oval programmable crockpot.) This recipe will serve a lot. It served at least a dozen folks at my support group meeting. (We had about 25 folks, but not all ate soup. Those who did enjoyed at least one full mug.)
Dice the veggies, and add them to the crockpot with the black-eyed peas that have been soaked and drained.
Pour in broth, and stir in Italian seasoning and salt.
Add ham bone. You can also add the chicken at this point, or save it until closer to the end of cooking time. As your chicken is already cooked, it's your preference on when you want to add it. I did add mine at the beginning and the soup was great, but adding it at the end would have also worked and kept the chicken in nice little chunks.
Cover and cook on low for 8 hours, or on high for about 6. About a half hour to an hour before serving, use an immersible blender to smash up about 1 cup of beans. If you don't have an immersible blender, scoop out 1 cup of beans, blend them in a traditional blender (be very careful as hot liquids tend to "explode" when blended), and add back to the soup. You will really only need to blend for a few seconds.
Stir after blending. The soup will thicken and have the most wonderful color.
Notes
This recipe was adapted from Stephanie O'Dea's Black-Eyed Pea Soup over at A Year of Slow Cooking. If you'd like fewer servings or would like to use a smaller crockpot, don't just halve this recipe. You'll want the same amount of black-eyed peas, 2 cups of meat, 4 cups of broth, and about the same amount of seasonings. Be sure to take a look at Stephanie's recipe, too, which serves 8.
Stephanie suggests adding Tabasco sauce to taste after you've ladled your soup into your bowl. We enjoyed it without, but if you like to add a little zip to your soup, that might be an option for you.
Any time, we want a little taste of hot at our house, we tend to add some Texas Pete hot sauce (bit of trivia--many of the peppers used in Texas Pete are grown locally) or Sriracha sauce.
Courses Soup, Main Dish
Recipe by gfe--gluten free easily at https://glutenfreeeasily.com/black-eyed-pea-soup/