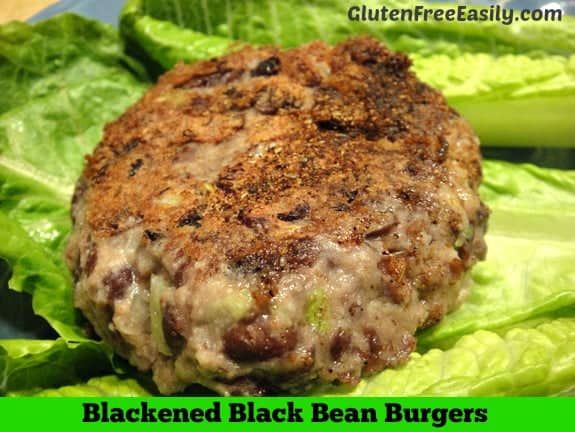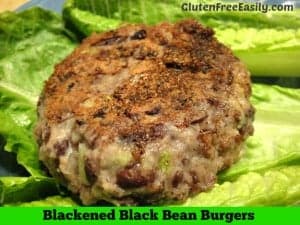 Blackened Black Bean Burgers (Gluten Free)
Hearty gluten-free vegetarian burgers (with vegan option) that will delight the veggie-loving members of the family AND the meat lovers!
Ingredients
Burger Ingredients
Blackened Seasoning Mix Ingredients (for sprinkling on burgers--use about 1 to 1 ½ tsp per burger)
Instructions
Add about one tbsp of olive oil to skillet. Preheat to medium or medium high setting.
Mash beans using a hand masher (or back of a spoon) on a flat plate.
Mix beans, egg (if used), olive oil, onion, celery, and almond flour.
Form into patties. Sprinkle seasoning mix on one side of each burger.
Add burgers with seasoned side down to preheated skillet. Sprinkle seasoning on other side of burgers.
Cook about 3 minutes or so on each side to desired crispness.
Flip using two spatulas, if necessary, to ensure burgers stay together.
Treat as you would any other burger; e.g., place on a bun; serve on lettuce leaves; top with ketchup, mustard, cheese, or special sauce (I just had one for breakfast topped with a Polynesian-type sauce that I had leftover from making pork chops last night—divine!).
Notes
Makes eight burgers about 3 ½ inches in diameter.Blackened seasoning mix adapted from Ashlie of The Delshad DuoIf omitting the egg, you may need to add more almond flour and your burgers might be slightly softer in texture. Therefore, cooking a bit longer may be needed if you want a more burger-like texture. (See readers' notes in comments for the changes they made for egg-free versions.) For either version of this recipe, remember not to mash the beans so much that you have a mushy mess; you want some whole or half beans remaining for a better burger appearance, taste, and texture. (That means the mixture should not look like it's been through a food processor.) I'm sure these burgers could also be broiled or grilled, instead of pan cooked. Broiling/grilling about 2-3 minutes on each side should do the trick and give a very nice blackened appearance and taste. I actually slightly undercooked the burgers shown here just to provide better photos.
Courses Entree, Main Dish
Recipe by gfe--gluten free easily at https://glutenfreeeasily.com/blackened-black-bean-burgers/