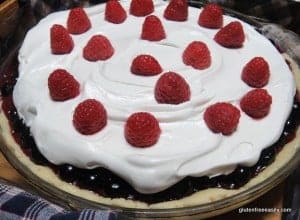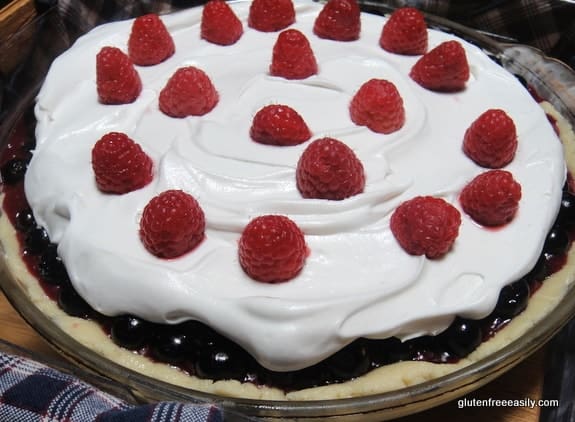 No-Bake Gluten-Free Blueberry Pie with Honey Whipped Cream
This No-Bake Gluten-Free Blueberry Pie with Honey Whipped Cream is the perfect way to kick off blueberry season or celebrate patriotic holidays! The fact that it is "no-bake" is a huge bonus during the hot summer months.
Ingredients
6 cups blueberries
3/4 cup honey
¼ tsp salt
2 tbsp plus 1 tsp arrowroot powder (or 4 tbsp cornstarch)
¼ cup water
2 tsp lemon juice
2 tsp coconut oil (or butter, or dairy-free butter)
½ cup raspberries for topping
Instructions
In a large saucepan, mix blueberries, honey, and salt.
Add water to arrowroot powder (or cornstarch) in a small bowl and blend. Add to blueberry mixture; blend.
Stirring often, cook over medium-high heat until mixture is bubbly and arrowroot-water mixture turns blueberry color, about 2 to 5 minutes.
Stir in lemon juice and coconut oil.
Cool slightly and pour into your already prepared pie crust (see notes below).
Chill at least an hour.
Spoon whipped cream onto chilled pie, leaving a perimeter of blueberries exposed. Top whipped cream with raspberries. (See recipe for homemade Honey Whipped Cream below.)
Notes
Pie recipe adapted from recipe in beekeeping newsletter; whipped cream recipe adapted from The National Honey Board.
My pie crust is a little bit overfilled because I forget to reserve blueberries to add right before filling the crust, so I added about 1/2 cup more than the recipe originally required. I don't think adding uncooked blueberries at this point is necessary though, so I modified the recipe as shared with my gfe readers.
I used the raw pie crust that I used in My First Raw Pie. It's a simple mixture of almond flour and honey. In this case, I used 3 cups of almond flour and ½ cup honey. You can adjust honey amounts to your taste. You just need enough honey so that almond flour and honey form a "dough." You simply mix together well and press into a greased pie plate.
Using this crust does make for a rich pie overall because of honey being in the crust, filling, and topping. Next time, I'd like to use a traditional pie crust or no-bake nut pie crust (just chopped nuts and coconut oil).
Of course, you can use any pie crust recipe that you wish. Remember that a traditional pie crust will need to be pre-baked, but using a traditional pie crust made from gluten-free flour will ensure that this recipe is also nut free.
I popped my pie into the freezer while I was making the whipped cream and then chilled some more afterwards. Refrigerating for a few hours before serving would be ideal as I was able to cut perfect pieces after a few hours of chilling.
Recipe by gfe--gluten free easily at https://glutenfreeeasily.com/blueberry-pie-honey-whipped-cream/