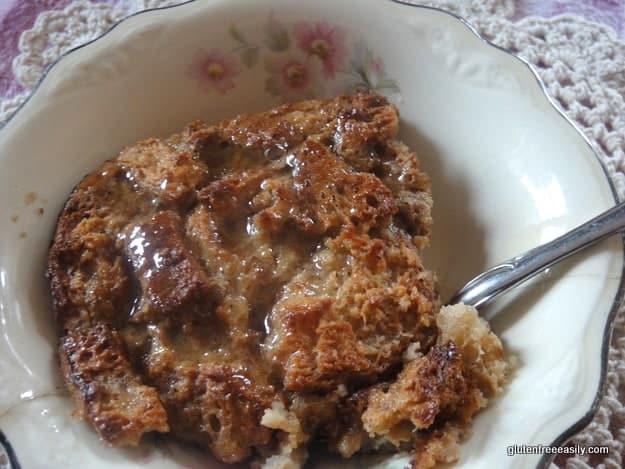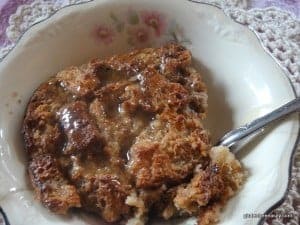 Old-Fashioned Bread Pudding (Gluten Free, Dairy Free--If You Wish)
Remember Grandma's Bread Pudding? You can still enjoy it even after going gluten free! You can often even use that loaf of gluten-free bread that wasn't quite your favorite or the loaf you made that didn't come out absolutely perfect.
Ingredients
6 eggs
1 ¼ cup granulated sugar
1 tbsp cinnamon (yes, a full tablespoon)
1 tbsp nutmeg (yes, a full tablespoon)
1 tbsp vanilla extract (yes, a full tablespoon)
12-ounce can evaporated milk (see coconut milk and other substitution info in notes below)
½ can (¾ cup) of water
1 cup raisins, optional
4 cups of gluten-free bread, crumbled (I like chunky pieces and this brand)
Instructions
Preheat oven to 350 degrees Fahrenheit.
Grease 9 x 13 baking dish.
In large bowl, mix eggs, sugar, cinnamon, nutmeg, and vanilla extract.
Add bread and raisins (if used) to mixture.
Pour milk into saucepan. Fill milk can halfway with water; add to saucepan with water. Heat milk and water over medium heat until warm, not hot.
Add milk and water mix to other ingredients in bowl. Let sit 5 minutes.
Pour into baking pan and bake for 45 minutes. Serve warm or cold, topped with milk or any sauce of your choice.
Notes
Any leftover bread, muffins, waffles, and such, should work in this recipe. Even the results of failed recipes for such "bread" products could potentially be used. If you only have a small amount at any given time, just stockpile them in a container in the freezer until you have 4 cups worth.
If using coconut milk, you can use the full can, which is generally about 14 ounces, but be sure to use only ½ cup of water in that case. Regular, whole or 2% milk can also be used, but the resulting bread pudding won't be quite as "rich" as with evaporated milk or coconut milk.
Coconut sugar or palm sugar can easily be substituted for the granulated sugar for an even richer taste that's lower glycemic.
Adapted from a recipe from my friend, Denise
Courses Dessert
Recipe by gfe--gluten free easily at https://glutenfreeeasily.com/bread-pudding/