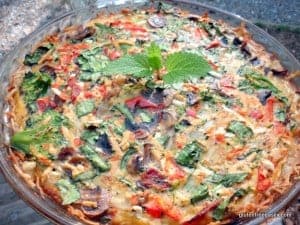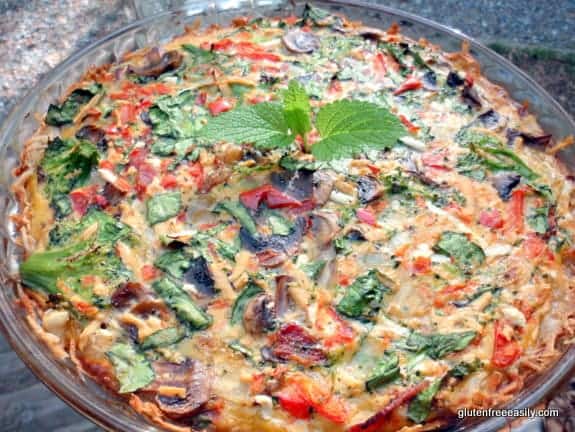 Clean-out-the-Fridge Veggie-Lovers Quiche (Gluten Free, Dairy Free, Refined Sugar Free, Soy Free & More)
Quiches are an excellent and easy, delicious way to clean out your fridge and have a delicious, economical meal!
Ingredients
1 tbsp olive oil
8 ounces mushrooms, sliced
1 small onion, diced
5 eggs, beaten
2 strips of bacon, cooked and crumbled (optional; omit for vegetarian version)
About 1 cup of steamed broccoli, drained (small pieces work best)
2/3 cup of Daiya "cheese" (or dairy cheese if you eat dairy; I used a mixture of cheddar and mozzarella)
½ red bell pepper, finely diced (raw)
1 packed cup of fresh, raw spinach, stems removed* and cut into strips with kitchen shears
¼ tsp sea salt (add more if you omit the bacon)
¼ tsp fresh ground pepper
¼ tsp basil
¼ tsp oregano
¼ cup gluten-free flour mix (like my Best Two-Ingredient Gluten-Free Flour Mix) if making your quiche crustless (use sifted coconut flour for a grain-free option)
Instructions
If using a potato or other crust, bake crust (see directions above) while preparing filling ingredients.
Saute mushrooms and onion in olive oil in a small skillet over medium heat for a few minutes until mushrooms release their liquid and onions are translucent. Do not discard resulting liquid.
In large bowl, beat eggs. Add all other ingredients. Mix.
Pour into greased pie plate or prepared pie crust. Bake at 425 degrees for about 10 minutes. Then reduce oven temperature to 350 degrees and bake for an additional 25 to 30 minutes. (Mine was done in 35 minutes.) Let stand for a few minutes before cutting and serving to ensure quiche sets up properly.
Notes
*I threw my stems into a green smoothie. (I always use spinach---stems and all---in my smoothies, but thought they'd detract from this quiche. Still, I didn't want to waste them.)Using a deep dish pie plate/pan (or even a casserole dish) is always the safest way to go. There's nothing worse than mixing your ingredients and pouring them in only to find out your pie plate is too small. Go big!
Courses Dinner, Main Dish, Entree, Breakfast
Recipe by gfe--gluten free easily at https://glutenfreeeasily.com/build-a-better-breakfast-lunch-or-dinner-gluten-free-quiche/