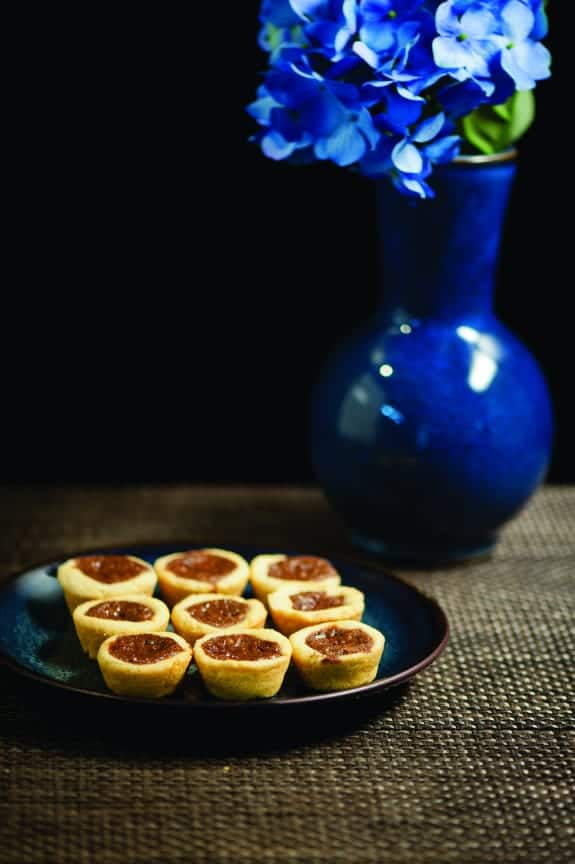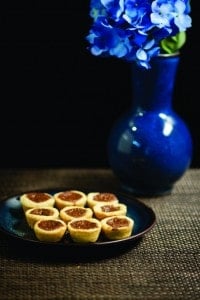 Butterscotch Tassies
Yield 24
Ingredients
For the Pastry:
½ cup butter (1 stick), softened
3 oz. cream cheese, room temperature
1 cup all-purpose gluten-free flour blend (see notes)
For the Filling:
½ cup gluten-free butterscotch chips (Shirley's note: Nestle Toll House butterscotch morsels are NOT gluten free; Hershey's brand and Guittard brand are both gluten free)
¼ cup gluten-free chocolate chips
2 tablespoons butter
1 tablespoon granulated sugar
1 egg
Instructions
Preheat oven to 325°F (165°C). Position the oven rack in center of oven.
For the Pastry:
In a medium mixing bowl, combine butter and cream cheese. Beat until smooth and creamy. Add flour; beat on low speed until combined. Shape dough into 24 balls. Press each ball evenly and up the sides of 24 ungreased mini muffin cups; set aside.
For the Filling:
In small saucepan, combine butterscotch chips, chocolate chips and butter. Heat and stir over low heat until melted. Remove from heat. Whisk in sugar and egg.
Spoon the chocolate butterscotch mixture evenly into the pastry shells, filling ⅔ of the way full.
Bake for 22–25 minutes or until the pastry is golden brown and the filling is puffed.
Remove the pan from the oven and let the tassies cool in the pan on a wire rack. Once cooled, carefully remove the tassies from the pan.
Place cookies between sheets of wax paper in an airtight container. Store at room temperature.
Notes
For this recipe, Chrystal uses her gluten-free all-purpose rice flour blend. Rather than making a whole batch, you can scale it down to:  ½ cup white rice flour + ¼ cup tapioca flour + ¼ cup potato starch. (Shirley's Note: That formula is 2 parts white rice flour, 1 part tapioca flour, and 1 part potato starch if you wish to make a larger batch to use in future recipes.)
Or Chrystal says you can use your preferred gluten-free all-purpose flour blend in this recipe.
Courses Dessert
Recipe by gfe--gluten free easily at https://glutenfreeeasily.com/butterscotch-tassies-sweet-simple-gluten-free-baking-cookbook/