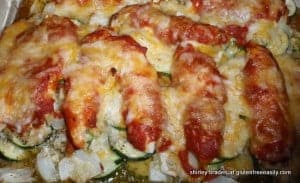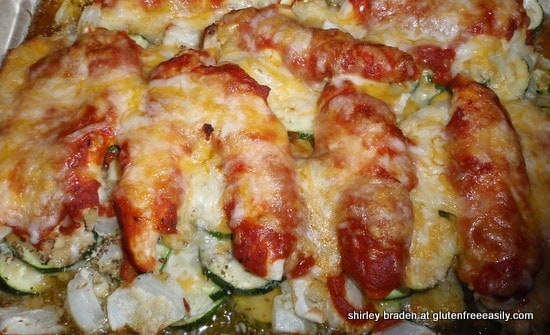 Cheesy Chicken Zucchini Bake
This Cheesy Chicken Zucchini Bake is one of our favorite meals. It's naturally gluten free and has an easy and equally delicious dairy-free option. 
Ingredients
extra virgin olive oil, about ¼ cup in total
2 – 3 zucchinis, sliced
1 large onion, sliced and cut into crescent pieces (either sweet or yellow will work)
blanched almond flour, about ½ cup in total
seasoning of your choice (I used pizza seasoning, which is similar to Italian seasoning, but a little zestier), about one tablespoon
chicken tenderloins (or boneless chicken breasts cut in half; as many as you like)
sauce of your choice (e.g., pizza, marinara), about 1/3 cup
grated cheese of your choice, if desired, about 1/3 cup (or more if you like) OR a little more almond flour for dairy-free version
Instructions
Preheat oven to 400 degrees F.
Drizzle some olive oil on the bottom of a 9 x 13 glass baking dish (or similar).
Add layer of zucchini (half of what you have sliced).
Add layer of onions and sprinkle with seasoning.
Sprinkle almond flour over the onions. (A couple of tablespoons will work.)
Repeat layering once (or until your ingredients are used up).
Top with chicken tenderloins.
Spoon sauce over tenderloins evenly. Drizzle a little more olive oil over sauce-covered chicken.
After 30 minutes of baking, sprinkle cheese (or a little more almond flour) over sauce-covered chicken. Bake an additional 10 minutes or until done. Note: If you use almond flour as topping on the sauce-covered chicken, you may want to put dish under broiler for a minute or two to ensure browning.
Notes
Inspired by Nourishing Meals.
See additional substitution notes in my post.
Recipe by gfe--gluten free easily at https://glutenfreeeasily.com/cheesy-chicken-zucchini-bake/