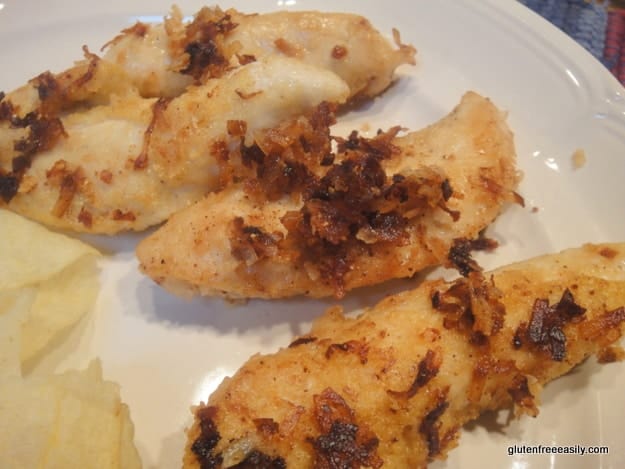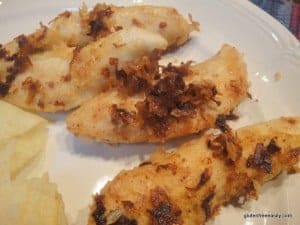 Chicken Tenders with Cornmeal or Coconut Breading
Cornmeal breading adapted from Southern Living; Coconut breading by Shirley Braden
Ingredients
For Cornmeal Breading
1 cup cornmeal
1 cup gluten-free flour*
2 tsp baking powder
1 tsp salt
¼ to ½ tsp chili powder, to taste
For Coconut Breading
½ cup coconut flakes (or more if needed)
¼ to ½ tsp chili powder, to taste
Instructions
Mix together either the cornmeal breading ingredients or the coconut breading ingredients (or both, separately) and pour into a shallow bowl.
Coat wet chicken tenders with breading mix and fry on medium to medium-high about 8 - 10 minutes on each side..
Notes
*I can't tolerate many of the healthier, gluten-free flours; e.g., sorghum, buckwheat. Therefore, my gluten-free flour mix is 3 parts Asian white rice flour and 2 parts cornstarch. I gently mix three one-lb bags of the Asian white rice flour and two one-lb boxes of cornstarch in a very large bowl and then store the mix in several airtight containers (like large glass jars). It's a very economical mix that works well in most recipes. No refrigeration is needed.The coconut I used was actually sweetened. (It was left over from making Linda's wonderful Coconut Cashew Clove Cookies.) So I was worried that these tenders might be too sweet, but the chicken taste itself and the chili powder I added offset the sweetness by just the right amount.
Recipe by gfe--gluten free easily at https://glutenfreeeasily.com/chicken-tenders/