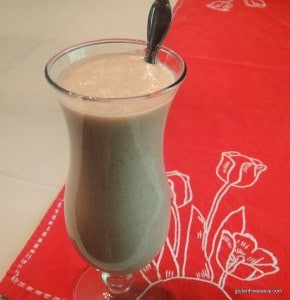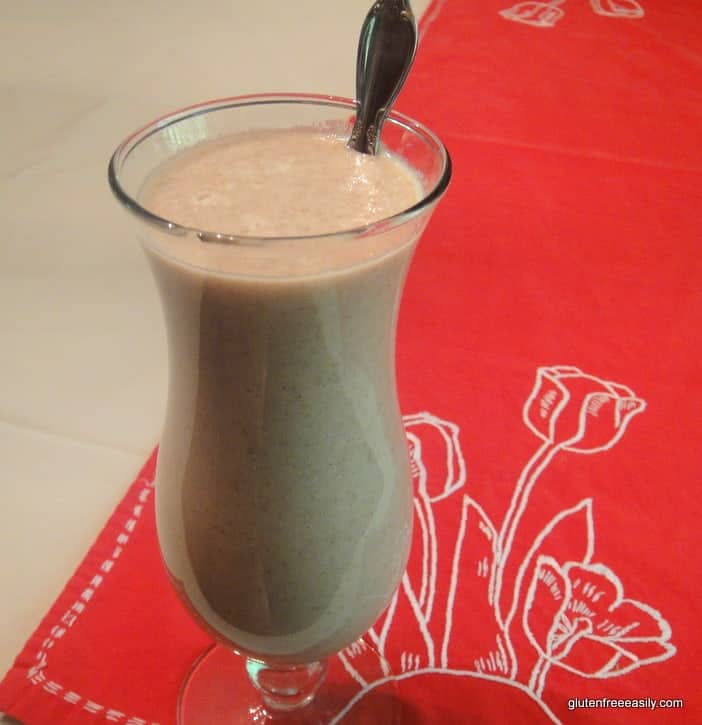 Chocolate Coconut Chia "Pet" Smoothie
Ingredients
1 cup water
½ cup coconut flakes
2 very ripe pears (peeled and chopped)
½ cup (equals one container for most brands) Greek or plain dairy yogurt, or goat's yogurt (I used Stonyfield Chocolate Oikos Organic Greek Yogurt)
about 2 small handfuls of shredded green cabbage
1 tbsp chia seeds
½ tsp cinnamon (I used Penzeys Extra Fancy)
Instructions
Add water to the blender (or Vita-mix or Blendtec) and then all the other ingredients. Blend on high about a minute until all ingredients are well blended and shredded cabbage is incorporated.
This recipe makes a little over 3 cups (two tall glass fulls or several small glass fulls, in the sizes shown).
Notes
All of Stonyfield products, EXCEPT for their YoBaby Plus Fruit & Cereal, are certified gluten free by GIG's Gluten-Free Certification Organization. Their products are organic and delicious. (I'm never been a fan of yogurt by itself, but I love using it in smoothies, baking, and sauces, like the avocado dressing I made for fried calamari.) Read labels to ensure gluten-free status of any other yogurt used. For coconut flakes, I used sweetened coconut because that's what I had on hand. You may wish to add a tiny amount of sweetener like honey, to taste, if you use a unsweetened coconut flakes and/or unsweetened yogurt. If you use plain yogurt, but still want the chocolate flavoring, add 1 ½ to 2 tablespoons of cocoa. Note that having all of the ingredients already chilled will produce a tastier smoothie. Alternatively, you could add a couple of ice cubes and slightly less water. I haven't made a bad smoothie yet, so be adventurous if you don't have quite the same ingredients. If one sample taste is unpleasing, add a bit of something else until you like your concoction. Final note … of course, my all-time favorite smoothies for getting in the most nutrition—while sacrificing nothing in taste—are Green Smoothies. I will forever be grateful to Tom and Ali of Nourishing Meals (and their Whole Life Nutrition Kitchen Cookbook) for their awesome recipe.
Recipe by gfe--gluten free easily at https://glutenfreeeasily.com/choc-coco-chia-pet-smoothie/