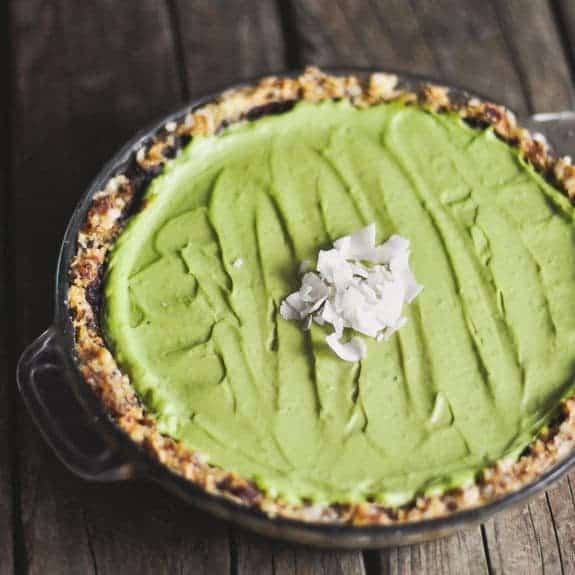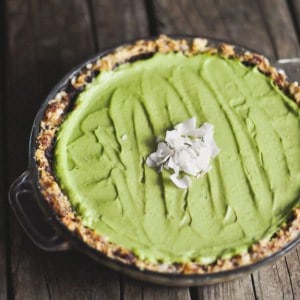 Chocolate, Avocado, Coconut, and Lime Pie from Cooking with Coconut Oil
Ingredients
Crust
1 1/2 cups unsweetened coconut chips
1/2 cup blanched almond meal
Juice and zest of 1 lime
1/4 tsp sea salt
1 cup Medjool dates, pitted
2 tsp pure vanilla extract
1/4 cup coconut oil, melted
Chocolate Layer
3 oz unsweetened chocolate
2 tbsp coconut oil
1 tbsp maple syrup (optional)
Filling
3 large, ripe avocados (about 2 cups)
Juice and zest of 2 limes
1/3 cup maple syrup or honey
1/4 cup coconut oil, melted
1/4 tsp sea salt
1 tsp pure vanilla extract
Instructions
Prepare the crust: In a food processor or heavy duty blender, blend all crust ingredients until well blended but a little chunky. Pat into a greased 9-inch glass pie plate. Chill in freezer while moving to the next step.
Make the chocolate layer: In a double-boiler or a metal bowl resting over a pot of simmering water, melt the chocolate and coconut oil together. Add maple syrup if you think you might not like the deep, rich flavor of unsweetened chocolate.
Pour the chocolate over the cooled crust and swirl it around to cover all the surface area. Put it back in the freezer to cool completely.
Make the filling: In a blender, blend all filling ingredients until smooth. Pour over solidified chocolate layer and chill for 4 to 6 hours.
Courses Dessert
Recipe by gfe--gluten free easily at https://glutenfreeeasily.com/chocolate-avocado-coconut-and-lime-pie-cooking-with-coconut-oil-elizabeth-nyland/