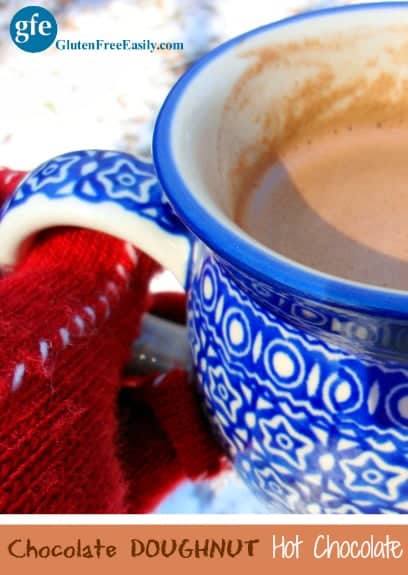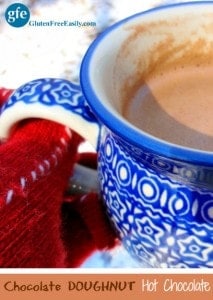 Chocolate Doughnut Hot Chocolate
Rich, creamy hot chocolate that gives you the effect of having a chocolate doughnut IN your hot chocolate!
Instructions
Preheat oven to 400 degrees Fahrenheit. Mix almond flour, coconut flour, and coconut oil on baking sheet. Place in oven. Cook for about two to three minutes, stirring about every minute. (This step can also be done in a small skillet over medium to medium-high heat for about the same amount of time.)
In your blender pitcher, add almond milk, raw cacao powder, coconut sugar, cinnamon, and your "doughnut" mixture. Blend on high spend until smooth, about a minute or so.
Transfer mixture to medium-sized saucepan. Heat over medium heat whisking mixture fairly often until it thickens and foams, about 4 minutes.
Add chocolate chips and salt, whisking again until chocolate chips are incorporated (melted chocolate will no longer appear on the whisk). Pour into mugs and serve immediately.
Notes
Makes about 2 servings.Inspired by J.M. Hirsch's recipeIf you really like cinnamon in your hot chocolate, you can skip the ground cinnamon and/or add a cinnamon stick to your mug. I decided the latter was a bit too much cinnamon for me and my Red Ape Cinnamon Stick from Nu Naturals was a wee bit short for my mug as you can see in my photo below. I love that this hot chocolate stays thick and "foamy" as it cools, too!
Courses Beverage
Recipe by gfe--gluten free easily at https://glutenfreeeasily.com/chocolate-doughnut-hot-chocolate-gluten-free-dairy-free/