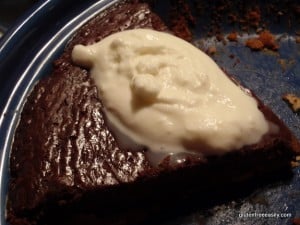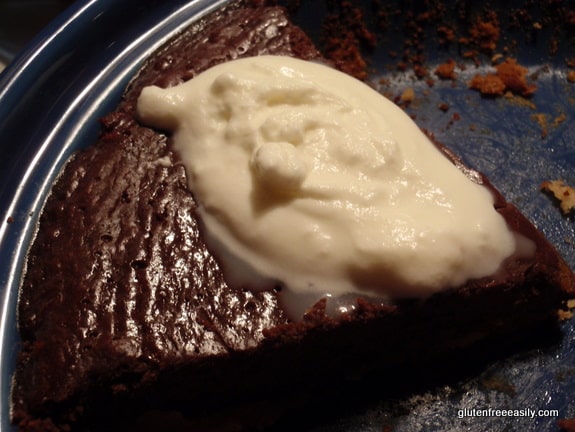 Chocolate Silk Pie (Gluten Free, Grain Free, and Dairy Free)
Inspired by several sources
Ingredients
Crust
Filling
1 cup semisweet chocolate chips (my favorites are Enjoy Life mini chocolate chips or mega chunks, which are gluten free, dairy free, and grain free; or Ghirardelli semi-sweet chocolate chips, which are only gluten free and dairy free)
1/2 cup butter (dairy or non-dairy, or coconut oil, liquefied or not per readers' input)
pinch of salt
1 tbsp unsweetened cocoa powder
3 eggs
2/3 cup canned full-fat coconut milk
1 tsp vanilla extract (optional)
Instructions
Preheat oven to 350 degrees.
Mix almond flour and honey right in pie plate. Using fingers, pat into a crust. Set pie plate aside.
Melt chocolate chips and butter in medium-sized saucepan using a double boiler.
Add salt, cocoa powder, eggs, coconut milk, and vanilla extract, stirring after each addition until you have a smooth mixture. Whisk, if needed.
Pour filling into crust.
Bake 30 minutes or until filling has puffed and toothpick inserted in center comes out clean. Cool completely.
Refrigerate until ready to serve.
Garnish as desired. I topped this pie with homemade whipped cream (easy to make using whipping cream and confectioner's sugar or coconut milk and honey for a dairy-free, grain-free, and refined sugar-free version, Honey Whipped Cream). For an even prettier and more impressive pie, you may also top your whipped cream with chocolate shavings or some sifted cocoa powder.
Notes
Any pie crust can be used, but I highly recommend this simple, healthy pie crust. Once the pie has been baked, the crust has a similar consistency and texture to a graham cracker crust.
Recipe by gfe--gluten free easily at https://glutenfreeeasily.com/chocolate-silk-pie-recipe-gluten-free-dairy-free/