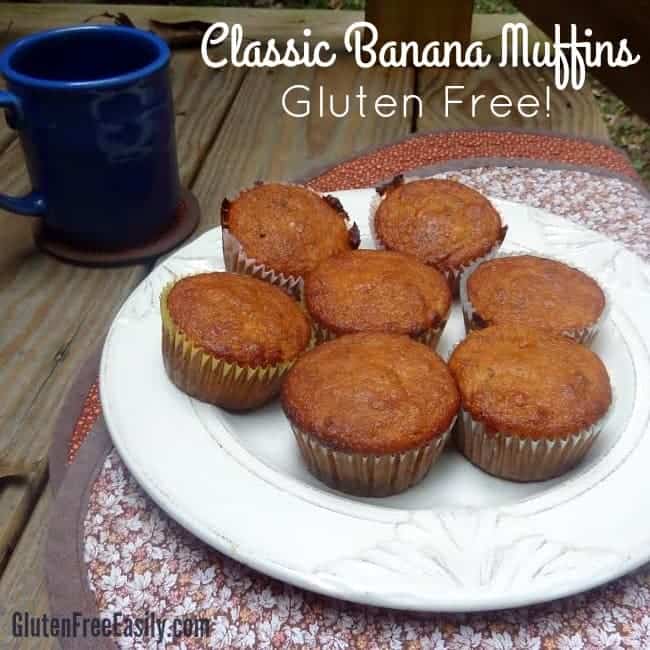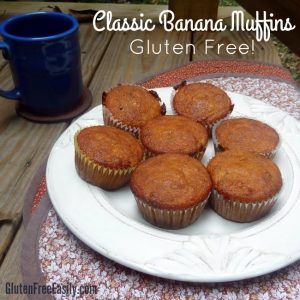 Classic Gluten-Free Banana Muffins
Everyone needs a banana muffin recipe in their baking repertoire! This classic gluten-free version doesn't disappoint.
Ingredients
1 egg
1/3 cup milk (dairy or non-dairy)
1 cup mashed, ripe banana
½ cup vegetable oil (I use liquefied coconut oil)
1 cup gluten-free flour mix (I use my two-ingredient flour mix)
1 cup blanched almond flour (I use this brand)
1/3 cup light brown sugar
1 tbsp baking powder (this is not a typo)
1 tsp sea salt
1 cup walnuts, chopped (more or less; or chocolate chips, if you prefer; optional)
Instructions
Preheat oven to 375F.
Use muffin/cupcake liners or lightly grease muffin tin.
In large bowl, beat egg and stir in milk, banana, and oil. (If using coconut oil, do not add it at this time because the cold ingredients will turn it to solid. You don't want that.)
Stir in remaining ingredients except nuts. Mix well. (If using coconut oil, add it now and make sure it's fully incorporated.)
Mix in nuts (or chocolate chips).
Fill muffin cups almost full.
Bake until golden brown, almost 20 minutes.
Let muffins cool in the pan about 5 minutes and then remove them from pan. If not using liners, use a knife to loosen them if necessary.
Notes
Recipe makes 12 muffins.
You can use all gluten-free flour mix versus a mixture of gluten-free flour mix and almond flour if you like, but the taste and the appearance of these muffins will be different, of course. Still good, but different.
Fill muffin cups only 3/4 full when using all gluten-free flour because the muffins will rise a bit higher than those made with the gluten-free flour/almond flour mix.
If doubling or tripling the recipe, do not double the amount of baking powder! Use 1 tablespoon plus 1 ½ teaspoons of baking powder for a double batch. If tripling the recipe, use 2 tablespoons of baking powder. If you double or triple the amount of baking powder for double and triple batches, respectively, baking powder will be all that you will taste when you eat your muffins.
Coconut sugar should work in place of light brown sugar, but I haven't personally tried it.
Courses Breakfast, Dessert
Recipe by gfe--gluten free easily at https://glutenfreeeasily.com/classic-banana-muffins-gluten-free/