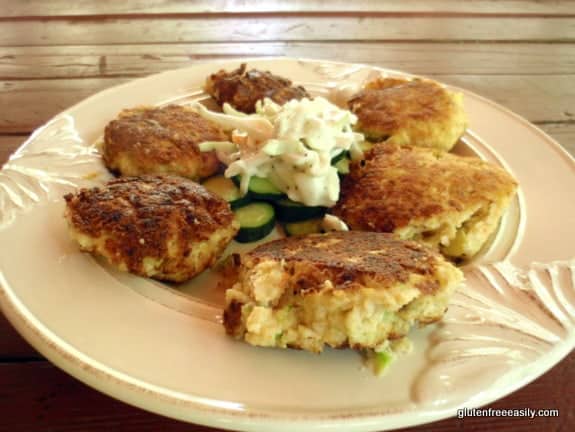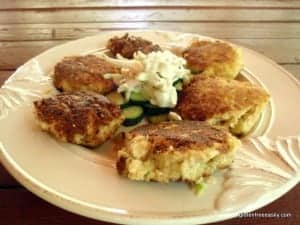 Coconut Popcorn Shrimp Cakes (or Crumbles) That Dad Would Love
Ingredients
1 1/ 2 cups cooked, peeled, deveined shrimp, processed for cakes or chopped small by hand for crumbles
1 cup zucchini, processed well or finely chopped by hand
½ cup sweet onion, processed well or finely chopped
1 large or jumbo egg, optional
1 cup almond flour (I use Honeyville blanched almond flour)
1/2 to 1 tsp Old Bay seasoning (optional, only use if your cooked shrimp have not been seasoned)
¼ tsp sea salt
1 tsp coconut oil and 2 tbsp coconut oil (divided, 1 tsp is used in eggless version)
Instructions
Add about 2 tbsp coconut oil to skillet and heat to medium to medium-high.
Mix all ingredients, adding 1 tsp coconut oil if omitting the egg.
Form into cakes and carefully place in hot oil or drop by large spoonfuls into hot oil for crumble version.
Cook about three minutes or so on each side until golden brown.
Makes about five average-sized shrimp cakes or many crumbles.
Notes
Using a food processor/mini-chopper for several seconds to process ingredients smaller will allow you to have perfectly formed shrimp cakes. For crumbles, hand chop ingredients or use food processor/mini chopper for a very brief time, before mixing ingredients together. For eggless shrimp cakes, processing the ingredients more will allow better binding. With eggless shrimp cakes, making smaller cakes and handling them more gently will yield better results.
Courses Appetizer, Main Dish
Recipe by gfe--gluten free easily at https://glutenfreeeasily.com/coconut-popcorn-shrimp-cakes-crumbles-gluten-free-dairy-free-egg-free/