For affiliate links and as an Amazon Associate I earn from qualifying purchases.
Crustless Pumpkin Pie. Crustless Gluten-Free Pumpkin Pie. If you're gluten free, those last four words have a much bigger impact than the first three words, right?
Today, October 12, is National Pumpkin Pie Day so I thought it was time to remind you about this pumpkin pie that has made so very many gfe readers happy!
Now, let me tell you about this phenomenal Crustless Gluten-Free Pumpkin Pie that has pretty much changed my life with all kinds of pie! To be specific, let me tell you about the concept of crustless pies for gluten-free baking and how I learned about them.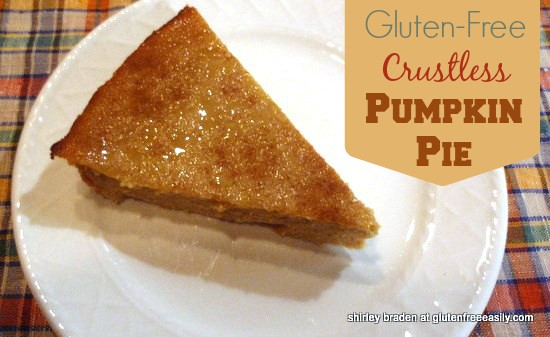 Sue is an active and enthusiastic member of a neighboring support group. She loves to bake. Several years ago, my good friend and former co-leader of my support group, Donna, had just been introduced to Sue. She couldn't say enough nice things about her.
Donna, in turn, connected the two of us. Sue and I had a nice long chat on the phone. That wasn't hard to do since we both live to bake.
We talked flour mixes. We talked cookies and cakes.
Then Sue said, "You know about the trick of adding ¼ cup of flour to a pie to make it crustless, don't you?" What??!!
"No," I answered. "Tell me more." She laughed and said, "That's all there is to it!"
She went on to tell me that if you add ¼ cup of gluten-free flour to most pie recipes, like pumpkin, coconut, and such, you end up with a wonderful, crustless pie. I immediately pulled out my pie plate and ingredients for pumpkin pie, a family favorite.
I added ¼ cup of gluten-free flour to my classic pumpkin pie recipe sans crust, loved the results, and I've never looked back. I don't think you will either.
Oh, and, you've probably already said to yourself … that's gluten free easily—gfe!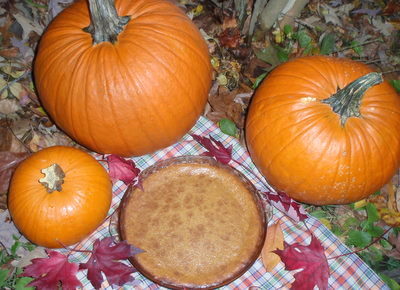 I make this pumpkin pie for holiday gatherings, support group meetings, work functions, girlfriend dinners … you name it! Nobody even notices this pie has no crust. When I purposely ask individuals—after they've eaten their slice of pie—if they noticed that there was no crust, they are surprised and honestly say they did not.
This recipe is perfect for Mr. GFE and Son because they always left their crust on the plate anyway. They simply never liked crusts. So, no more sad, empty crusts left behind in my house.
It's all about the pumpkin custard flavor in this one, baby. You don't even taste the small amount of flour added; it just holds the custard together nicely.
In fact, many individuals who have never liked pumpkin pie before love this one. They say that small amount of gluten-free flour mix added to the filling results in pie that's less "wet"—for lack of a better term—and delightfully custardy.
So you just want to share this pumpkin pie with everyone in your family, not just those who are gluten free.
Enjoy!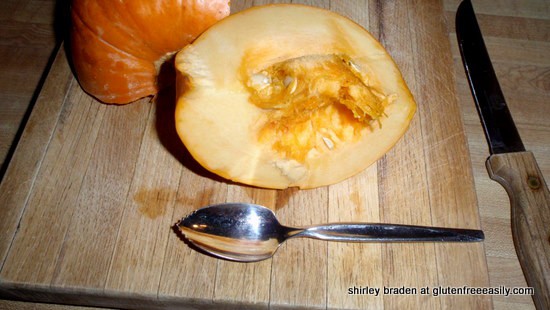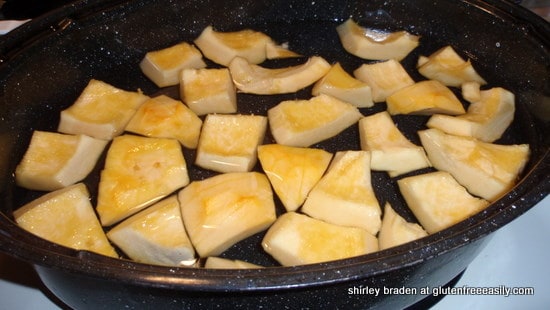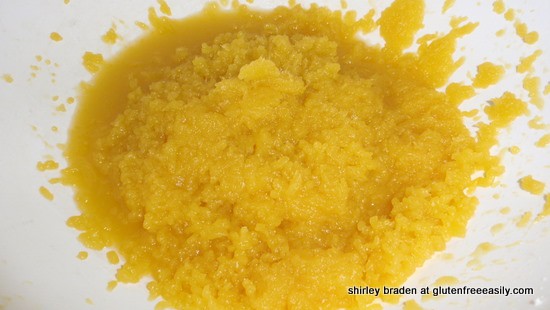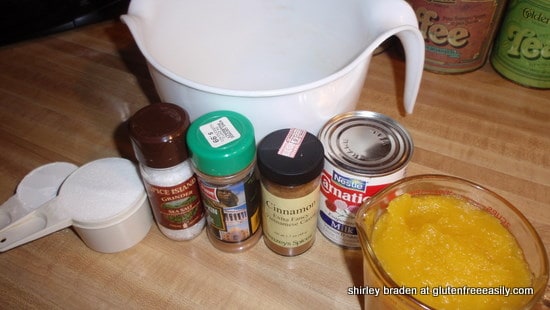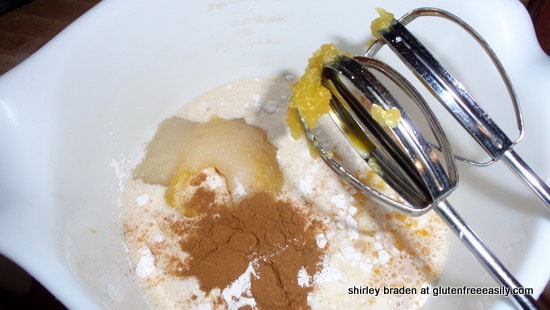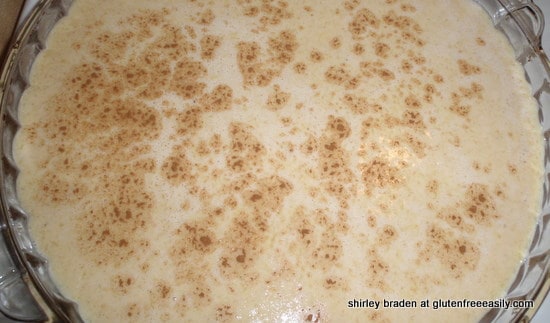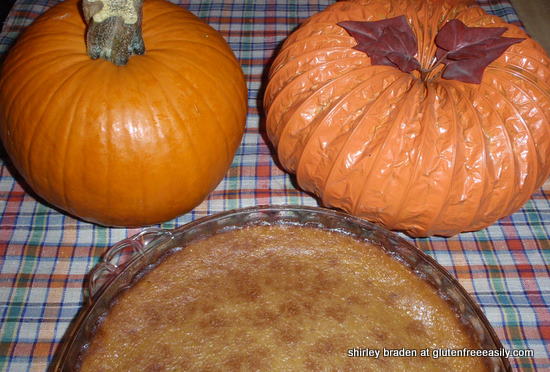 More Gluten-Free Pumpkin Recipes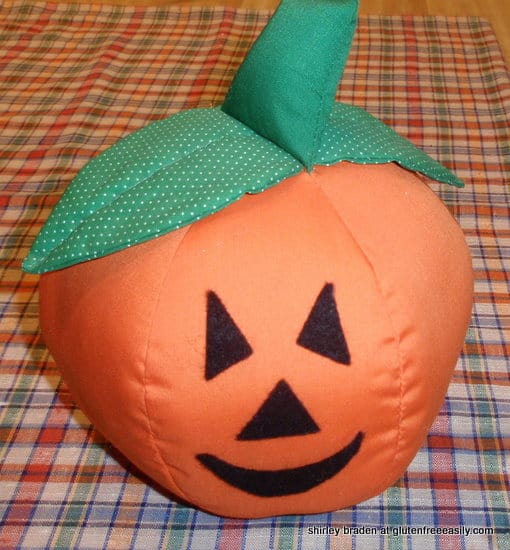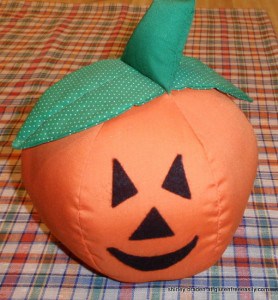 Looking for other ways to use pumpkin? Fantastic recipes abound. Check out the following:
Gluten-Free Pumpkin Recipes on gfe
~ Best Pumpkin Pie Ever (Crustless, Gluten Free, and Dairy Free)
~ Classic Gluten-Free Pumpkin Bread
~ Pumpkin Pie Smoothie with Honey Cinnamon Whipped Cream
See all the pumpkin recipes on gfe here.
A Few More Gluten-Free Pumpkin Recipes from Friends
~ Pumpkin Cheesecake (with a luscious topping)
~ Pumpkin Chocolate Swirl Cheesecake Bars (via the Wayback Machine)
Crustless Gluten-Free Pumpkin Pie Recipe
Yield: 8 servings
Crustless Gluten-Free Pumpkin Pie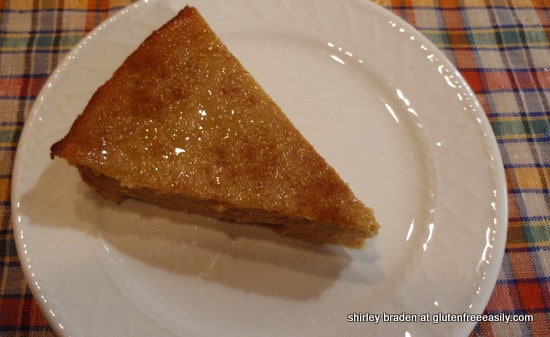 This Crustless Gluten-Free Pumpkin Pie is life changing! It makes pumpkin pie making so easy and delicious. Nobody ever notices that there's no crust with this pie; it's just not needed.

Prep Time 10 minutes

Cook Time 1 hour

Total Time 1 hour 10 minutes
Ingredients
2 eggs
one can/box (15 - 16 ounces) pumpkin puree or 2 cups cooked fresh pumpkin puree (I used fresh pumpkin puree, hence, the lighter color)
¾ cup granulated sugar (see notes)
½ tsp salt
1 tsp ground cinnamon
½ tsp ground ginger
½ tsp ground nutmeg
½ tsp ground allspice
1/8 tsp ground cloves
one 12-ounce can evaporated milk (one regular-sized can, not low-fat or fat free)
Instructions
Preheat oven to 425 degrees F. Grease pie plate and set aside. In large mixing bowl, beat eggs slightly; mix in remaining ingredients using mixer on medium speed.
Place pie plate on oven rack; pour in filling. (I never do this, but it makes sense. Personally, I'm in the "hum" or "count as you carry the pie to the oven" school of thinking to ensure the pie plate contents do not spill. Hey, it works for me!)
Sprinkle pie filling with cinnamon. Bake 15 minutes.
Reduce oven temperature to 350 degrees F. Bake until knife or toothpick comes out clean, about 45 minutes longer. (Pies made with fresh pumpkin may take slightly longer to bake due to higher moisture content.)
Notes
Adapted from Betty Crocker with thanks to Sue!

Note that this particular crustless method will not work for pies that contain heavier ingredients, like fruit. However, be sure to check out my recipe for Crustless Apple Pie.

If you need a gluten-free, dairy-free pumpkin pie, here's your recipe. (This latter recipe is so good that you don't need to make two versions, one for gluten-free folks, and one for gluten-free and dairy-free folks. It will be enjoyed by all.) If you're grain free and use sifted gluten-free coconut flour, the coconut flour will absorb some of the filling, so less baking time will be required. Check at about 30 to 35 minutes.

One reader substitutes 1/2 cup honey for the granulated sugar. She says the results are perfect!

If you'd prefer using pumpkin pie spice instead of these individual spices, just substitute 2 3/4 teaspoons pumpkin pie spice.

Using fresh pumpkin puree not only gives the pie a lighter color, it also gives the pie a lighter taste in my opinion.

One reader uses the blender to mix the ingredients. He likes to use 1/3 cup gluten-free flour mix (vs 1/4 cup) for a slightly thicker texture.

Originally published October 26, 2009; updated October 11, 2023.