This post may contain affiliate links. If you purchase through them, your cost will stay the same, but gfe will receive a few cents for every dollar spent. Thanks for supporting gfe!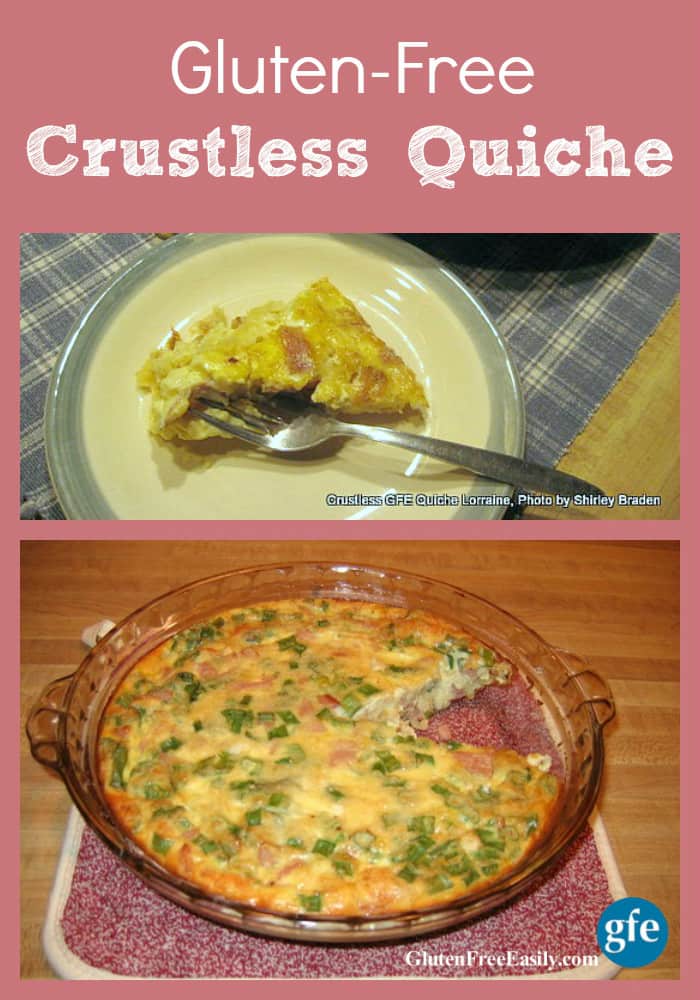 Diane, over at The WHOLE Gang, has initiated a new blog carnival called the Friday Foodie Fix. Each week features recipes with a secret ingredient. This week's ingredient is eggs. (Heads up … next week's secret ingredient is avocados if you'd like to join in!) This week seemed like a long one and I was out for several hours today enjoying art galleries and having lunch with my friend, Veronica, so I wasn't sure I'd get to participate. But, I came home refreshed and re-energized.
Oh, and I guess I should mention the exhibit at our first stop, LibertyTown Workshop, was "Feast For the Eyes—An Exhibit of Art … About Food." So many glorious renderings of food can make a girl want to get busy in the kitchen! Then, when I saw the secret ingredient for the Friday Foodie Fix was eggs, I knew this would be a good time to share one of my favorite gfe recipes … crustless quiche.
I am sharing two versions. The quiche that I made this evening is a crustless classic quiche Lorraine, which calls for eggs, Swiss cheese, bacon, onions, milk, salt, and a small amount of flour. What makes it crustless and gfe? You simply replace the flour that is already called for in the recipe with gluten-free flour and then add an additional ¼ cup of gluten-free flour. (So if a quiche recipe called for no flour at all, you'd just add ¼ cup of gluten-free flour.)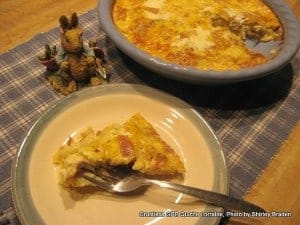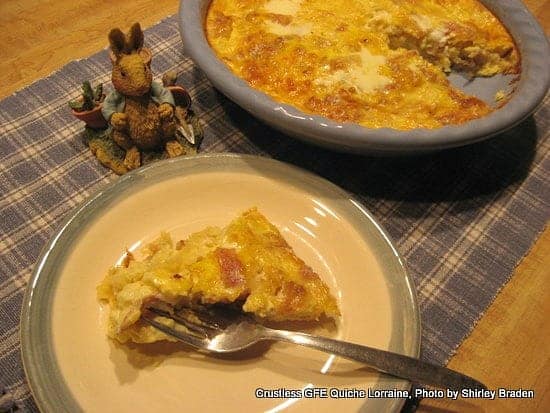 Print
Crustless Quiche Lorraine
Ingredients
8 slices bacon (or ham), cooked and chopped (I simply cut mine with kitchen shears)
1 cup shredded Swiss cheese
1 medium yellow (or green) onion, chopped (about ½ cup)
¼ cup plus 2 tbsp gluten-free flour mix (I use my Two-Ingredient Gluten-Free Flour Mix; see notes)
4 eggs
1 cup milk
1/2 tsp salt
1/8 tsp cayenne pepper (optional, but provides a nice little bite)
Instructions
Preheat oven to 350 degrees and grease a 9-inch pie pan.
Toss bacon, cheese, onion, and gluten-free flour together and spread in the bottom of the pie pan. (I just do this in the pan.)
In a bowl or larger measuring cup, beat eggs together and then add remaining ingredients, beating well. Pour egg mixture over the bacon mixture.
Bake, uncovered, for 35 to 40 minutes or until toothpick comes out clean. Let stand several minutes before cutting.
Notes
For a grain-free option, use sifted coconut flour in place of the gluten-free flour mix.Adapted from a recipe from Leanne Ely of Saving Dinner. (Note: I could not find a direct link to this recipe. I actually received the original recipe years ages ago via email from Leanne Ely through Flylady. Leanne Ely is a cookbook author and promoter of healthy, reasonable meals. Her saving dinner site offers menu mailer subscriptions. The low-carb menu mailer can easily be adapted to gluten free—along the lines of gfe. I subscribed for a while.
Courses Main Dish, Breakfast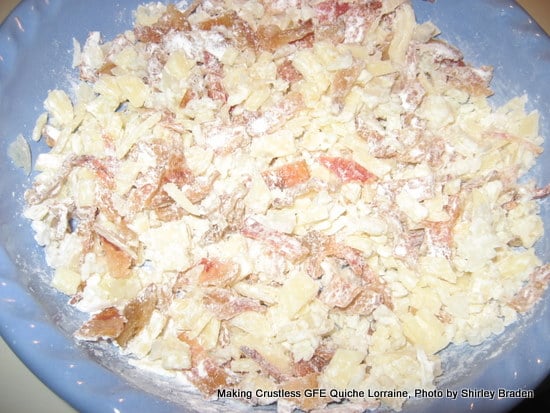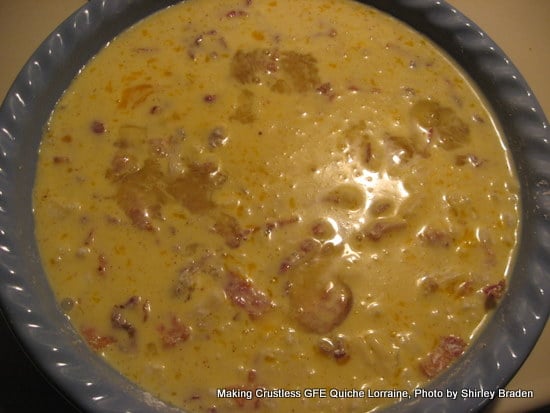 Not too long ago, I tried the gfe quiche variation using ham and green onion (versus bacon and yellow onion). It's shown below. It was quite good also, but we prefer the quiche Lorraine. But, you can see how quiche is a very adaptable recipe. You can use leftover bits of meat, seafood, and vegetables, but the eggs are key. If you absolutely want some type of crust, consider alternatives like rice crusts and potato crusts.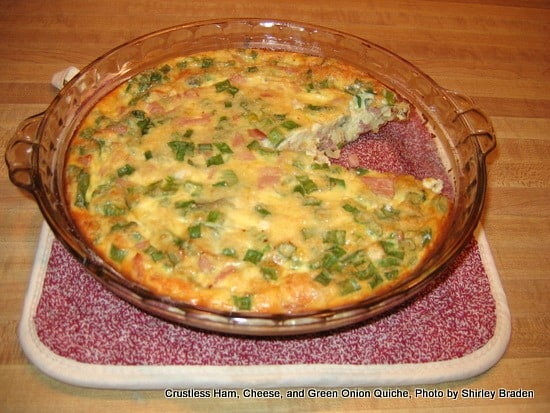 Because I am trying to eat more dairy free these days, I won't be making any more quiches for us for a long while. This evening I ate a small piece with a side salad. Quiche just seemed like the perfect way to meet the eggs requirement for the Friday Foodie Fix and to also introduce you all to this easy tip on making a quiche not just gf, but gfe.
My friend, Sue, from a sister support group, shared the tip on adding ¼ cup of gluten-free flour for making pies and quiches. (I'll be sharing lots of crustless dessert pie recipes in the future.) When I tried Sue's tip, I truly felt like I had hit the gfe jackpot. Try it … I promise you, won't miss the crust!
This post is linked to Hearth and Soul Blog Hop and Gluten-Free Fridays.