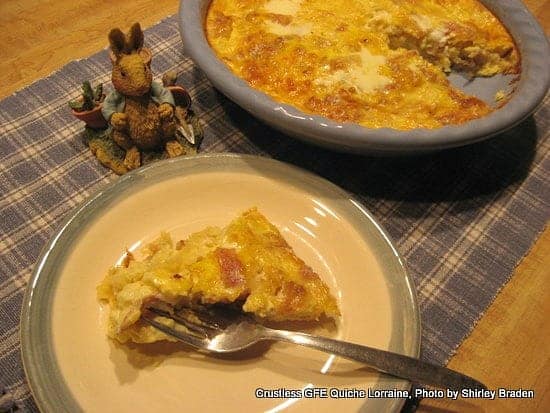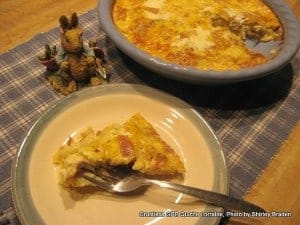 Crustless Gluten-Free Quiche Lorraine (Plus More Flavor Options)
You won't believe how easy it is to turn your favorite quiche into a crustless gluten-free version! So delicious and super easy, too, since you don't have to worry about making a crust. Quiche Lorraine is a classic and my personal choice but there are lots of flavor options.
Ingredients
8 slices bacon (or 1 cup ham), cooked and chopped (I simply cut mine with kitchen shears)
1 cup shredded Swiss cheese
1 medium yellow (or green) onion, chopped (about ½ cup)
¼ cup plus 2 tbsp gluten-free flour mix (I use my Two-Ingredient Gluten-Free Flour Mix; see notes)
4 eggs
1 cup milk
1/2 tsp salt
1/8 tsp cayenne pepper (optional, but provides a nice little bite)
Instructions
Preheat oven to 350F degrees and grease a 9-inch pie pan.
Toss bacon, cheese, onion, and gluten-free flour together and spread in the bottom of the pie pan. (I just do this in the pan.)
In a bowl or larger measuring cup, beat eggs together and then add remaining ingredients, beating well. Pour egg mixture over the bacon mixture.
Bake, uncovered, for 35 to 40 minutes or until toothpick comes out clean. Let stand several minutes before cutting.
Notes
For a grain-free option, use sifted coconut flour in place of the gluten-free flour mix.
When making this recipe using ham, I like to add in a small amount of chopped bell pepper (usually green pepper).
Adapted from a recipe from Leanne Ely of Saving Dinner. I actually received the original recipe years ages ago via email from Leanne Ely through Flylady. Leanne Ely is a cookbook author and promoter of healthy, reasonable meals. Her saving dinner site offers menu mailer subscriptions. The low-carb menu mailer can easily be adapted to gluten free—along the lines of gfe. I subscribed for a while and enjoyed the menus!
Courses Main Dish, Breakfast
Recipe by gfe--gluten free easily at https://glutenfreeeasily.com/crustless-quiche-for-friday-foodie-fix/