For affiliate links and as an Amazon Associate I earn from qualifying purchases.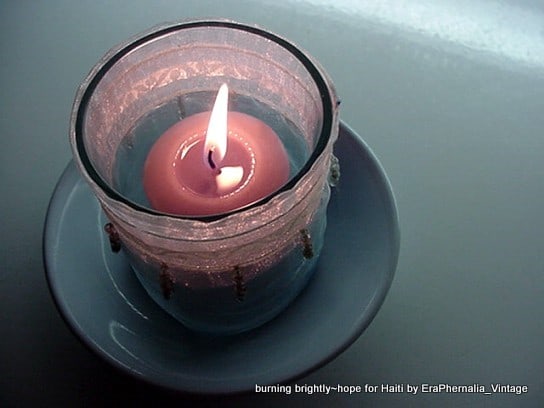 This post is linked to What can I eat that's gluten free?
I had a different post planned, but current events are much more important. I know all of our hearts are going out to those in Haiti right now. Lovely Lauren, Celiac Teen, is compiling an e-book of recipes to raise money for the Haitian relief effort. She's hoping for a great response. Please consider supporting Lauren's efforts; read more here.
Today we remember Martin Luther King, Jr. Probably the best article on Dr. King that I read today was one by Scott Eblin. Scott is an executive coach, author, and speaker. His words at his Next Level blog post come from that perspective.  You can read what he has to say here.  There is no gluten connection here … well, other than the fact that Scott Eblin just happens to be the fine husband of our beloved gluten-free, dairy-free Diane over at The W.H.O.L.E. Gang.
 
Many times those of us who blog get to read and drool over great recipes on others' blogs, but don't actually have time to make them. That can be a little frustrating, so I really enjoy it when I do find the time to make my friends' recipes. In the past week, I've made three such recipes. (I'm sorry I don't have photos to share. My camera is still being repaired.)
First, there were Linda's Cashew Coconut Clove Cookies. I had originally planned to make these no-bake cookies over the holidays, but just plain ran out of time. The ingredients (cashews, coconut, cloves, and sweetened condensed milk) still sat on the counter when we returned from our vacation. So I made them for Mr. GFE to take to his hand bell choir practice last week. That was a good thing for many reasons: his hand bell choir loves treats, the members often need a little reward for all their hard work, the members are willing (and grateful) guinea pigs, and last, because the recipe didn't make a huge amount, there were only two cookies left for me to eat—that number was just right (channeling Goldilocks here). I made two changes to the recipe—one accidental, and one purposeful (but caused by the accidental change). I had scrawled down the recipe on the back of an envelope (too rushed to go downstairs and actually print it out). I read "7 ounces of coconut" as "2 ounces of coconut," so I actually used only about a fourth of the amount required. The cookies had a clove flavor slightly stronger than I liked—in hindsight, that was clearly caused by not adding enough coconut—so I decided to roll them in a mixture of cinnamon and sugar versus just granulated sugar. The cookies came out wonderfully and the hand bell choir members loved them. Be sure to check out Linda's original recipe here.
Last week in Linda's weekly roundup, What can I eat that's gluten free?, Winnie's Coffee Almond Cookies showed up. Winnie blogs at Healthy Green Kitchen. I had seen her post earlier via Twitter and was totally seduced by her photo of these cookies. (Go look … you will be, too.)  While I don't drink coffee, I love the aroma and sometimes I enjoy coffee in desserts. I pilfered one tablespoon of some Dunkin Donuts dark coffee from the kitchen at our office. I already had the other ingredients: almond flour, eggs, sugar, vanilla extract, cinnamon, and sea salt. I could barely wait to get home from work with my "lifted" coffee to make these cookies, but then I ended up working late. So, I didn't get to make them until the next morning, but they were totally worth the wait. These cookies are fantastic, really. I made a few changes like using whole eggs versus egg whites, adding some additional almond flour to compensate for the extra liquid of the whole eggs, using a combination of granulated sugar and brown sugar, and adding a few chocolate chips. Who can resist chocolate with coffee? Next time, I might just add a little cocoa versus using chocolate chips, which would keep these cookies dairy free, as well as gluten free. I followed Winnie's suggestion and ate some—three, in fact—for breakfast. What a great breakfast! The rest I took to my health initiative group's retreat. None came home with me; that tells you how good these cookies were. And, Mr. GFE liked them more than my brown sugar chocolate chip cookies—now that's high praise! He said they taste like really good, conventional cookies. I have to agree. So I made some more for him today—this time with some decaf Folger's coffee. As someone who prefers no caffeine these days, this last batch was the best.
Yes, I'm the "goodie girl" when it comes to our health initiative group meetings. Others provide main dishes, salads, and such (an incredible antipasto platter, awesome marinated tuna steaks, fabulous prosciutto and cheese crostini, etc.), but they look to me for the gluten-free, dairy-free, and often refined sugar-free treats. Some of my best blogging buddies have featured raw truffles on their blogs the last few months. There were Amy's elegantly presented Raw Date Truffles (Simply Sugar & Gluten-Free); Lauren's wonderfully simple Date Treats (Celiac Teen); Karen's festive Goji Berry Truffles (Cook4Seasons); Diane's Cranberry Chocolate Nut truffles, which speak for themselves; and most recently Ali's "snow"-covered Cinnamon-Sunflower Truffles, an acceptable treat for the elimination diet that she and Tom are currently featuring at The Whole Life Nutrition Kitchen. Because I decided I wanted to make truffles at the last minute, I had to go with a recipe that included ingredients I had on hand. Lauren's Date Treats won out based on that requirement. Her recipe contained dates, dried cranberries, hazelnuts, cinnamon, and vanilla extract. I substituted walnuts for the hazelnuts and used slightly less of the dried cranberries. I ran my ingredients through the food processor until they were pretty well blended. You roll them into small balls and they look just like traditional truffles. So easy. To pretty mine up a bit, I rolled them in coconut like Ali did with her truffles. Everyone agreed these were amazing. They are gluten free, dairy free, and sugar free, yet decadent-tasting and very healthy. I will be purchasing dates whenever possible to make these raw truffles and I hope to eventually try out the other great truffle recipes I mentioned. So many delicious flavors in a healthy treat. Any would make lovely desserts for Valentine's Day … now less than a month away.
I made one more dessert for our retreat. I made a variation of the Double-Chocolate Clementine Cake. This time around, I just had three Navel oranges so I used those versus Clementines. (I'd thought I'd use these oranges for Pete's Orange-Cranberry Sorbet; however, since I didn't have any fresh cranberries, I decided to make that another time.) Because I was headed to work and couldn't wait for the oranges to simmer for 2 hours, once they were boiling in the stockpot, I poured the oranges and hot water into my crockpot and set it to high. I was gone for 3 hours and when I returned the oranges were perfectly cooked. I let them cool, plucked out the hard ends and a little bit of the pith, then proceeded with the recipe. Three oranges provided a lot of "meat" and juice; two would work just fine. This time around I used honey versus granulated sugar. I used ¾ cup, but one might have to adjust to taste and the amount of liquid provided by the oranges. This cake was more mousse like than cake like as the previous version was, but using two oranges (or the amount of Clementines in the original recipe) would solve that "problem." I also added one teaspoon of cinnamon because the cake had a more pronounced orange flavor and, therefore, just seemed to call for cinnamon. The resulting cake was quite a bit different from the previous version, but still loved by all.
As one who is still recovering from a cold, Amy's Immunity Booster Cookies sound and look like the way to go to me! Check out that recipe and her iHerb giveaway here.  There are five ways to enter! My other wonderful blogging buddy, Kelly at The Spunky Coconut has an amazing raw-inspired Goji and Cacao Pie plus an iHerb giveway, also. Check it out here. Note: Kelly's giveaway ends Wednesday, January 20, and Amy's goes through Sunday, January 24.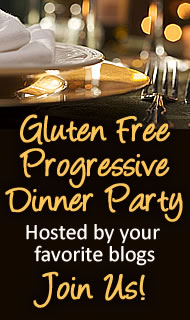 Last, another Gluten-Free Progressive Dinner Party has begun! Considering the excesses of holiday eating, but still acknowledging the chill of winter, the theme is Light Winter Warmers. Diane, of The W.H.O.L.E. Gang, is our very lovely host of this monthly event. Here's the schedule with a heads up on some of the dishes:
Monday, January 18–Karen from Cook4Seasons with Creamy Potato and Leek Soup and Roasted Cauliflower Soup by Alison from Sure Foods Living
Tuesday, January 19–Winter Fire-Roasted Tomato Soup with Prosciutto Topping from Diane of The W.H.O.L.E. Gang 
Wednesday, January 20–Mexican Seafood Soup from  Diane of The W.H.O.L.E. Gang and Seamaiden from Book of Yum with an Un-Chicken Vegan Savory Soup
Thursday, January 21-–Amy from Simply Sugar and Gluten-Free and me—Shirley—here at gfe–gluten free easily
Friday, January 22–Ali from The Whole Life Nutrition Kitchen
Most of the bloggers will be sharing lighter soups and stews, but I'll actually be sharing a hot beverage recipe on Thursday. It's one I've made several times before. I'll actually be making it tomorrow for our support group meeting because our members enjoy it as much as I do. My post will share the beverage recipe as well as a giveaway of the cookbook it comes from—an autographed copy, no less. So be sure to check back and please check out the other links shared here, especially Lauren's A Hand for Haiti.
Shirley
Not just gf, but gfe!