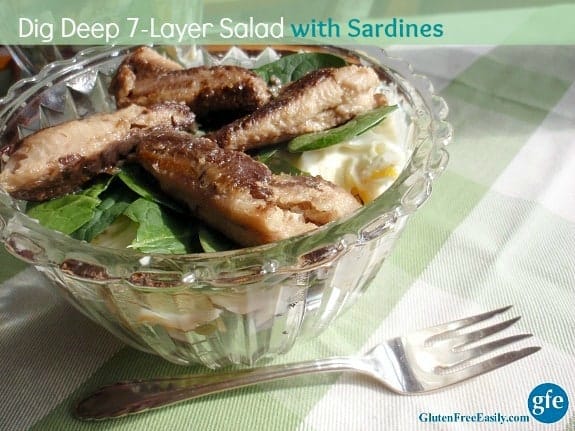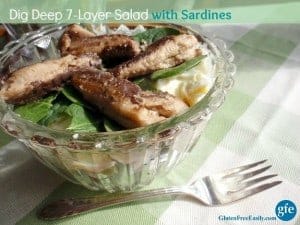 Dig Deep 7-Layer Salad with Sardines
Ingredients
Iceberg lettuce, one head, torn into bite-sized pieces (or equivalent amount of Romaine lettuce)
About 1 cup of cole slaw mix (shredded cabbage, red cabbage, and carrots); simply shredded cabbage; or other crispy greens
1 red onion, thinly sliced
1 cup of frozen peas, thawed
1 1/2 to 2 cups mayonnaise (see notes)
3 eggs, hard boiled and sliced
About ½ cup baby spinach leaves, packed
3 cans of Season sardines packed in olive oil
Optional ingredients:
Dairy-free cheddar cheese
Sea salt or herbal salt
Instructions
As the name of this salad indicates, you will layer the ingredients.
Place lettuce in a large bowl and then top with cole slaw mix, red onion, and peas.
Spread mayonnaise over pea layer with a spatula, "sealing" the edges.
Cover and chill for at least one hour, but ideally overnight and even 24 hours before serving. (The salad should not get soggy. Read notes.)
Remove salad from refrigerator.
Add layer of baby spinach.
Open can of sardines, draining olive oil into a small skillet. Heat to medium or medium high. Add sardines to hot oil, turning after a minute or two. Cook another minute or two.
Remove sardines with a slotted spatula and add to the top of the salad.
At this point if you wish, you can pour part (or all if you prefer) of the hot sardine drippings/olive oil from the skillet on the spinach layer, evenly distributing all. Or you can skip this step if you'd like, as the hot sardines themselves will wilt the spinach some.
Let salad sit a minute and then take a bite or two.
Sprinkle salad with sea salt, if needed. I sprinkled a little Seasonello over mine.
Notes
Two cups of mayonnaise in this recipe definitely makes for a wonderful rich "dressing" base, but you can most likely get by with a lesser amount, especially if adding the olive oil from the sardines when you add the sardines.I love the mayonnaise recipe from Well Fed, which is made from olive oil, but I also enjoy the ready-made Just Mayo. It's gluten free, egg free, soy free, and vegan. The main ingredient is canola oil, but it's non-GMO canola oil.I used one can of sardines packed in olive oil with salt and one can packed in olive oil without salt.This salad does not get soggy if you use the ingredients listed (or substitute other crisp ingredients like green pepper, celery, sliced carrots, etc.). You don't have to cook your sardines. You can just add them as salad topping at the same time as the other ingredients and refrigerate all if you'd like. I would probably drain the sardines and not use the olive oil they're packed in if taking that route, but it's up to you. You can refrigerate leftovers. This salad will keep for a few days.Makes 12 to 14 servings.You can see all the flavors of Season sardines here.
Courses Main Dish, Entree
Recipe by gfe--gluten free easily at https://glutenfreeeasily.com/dig-deep-7-layer-salad-with-sardines/