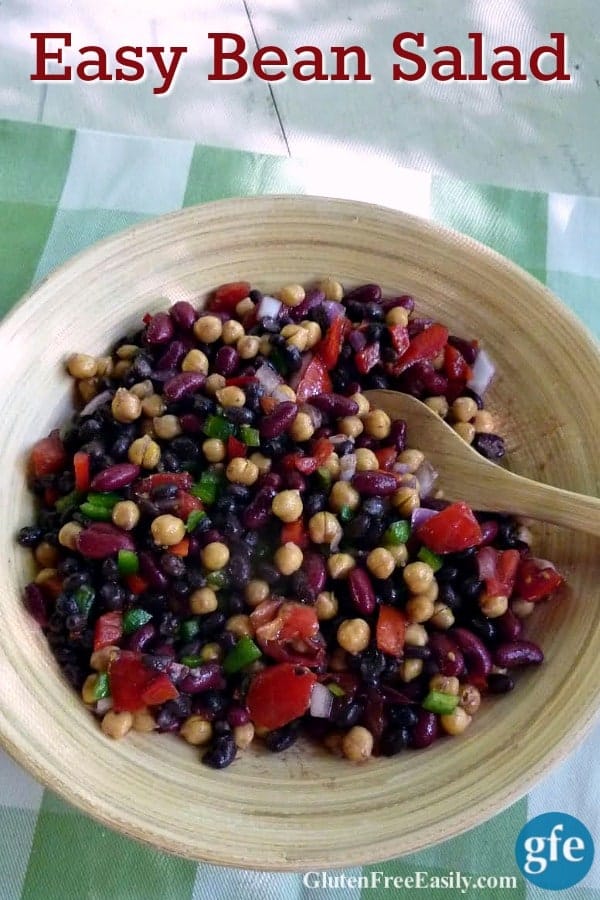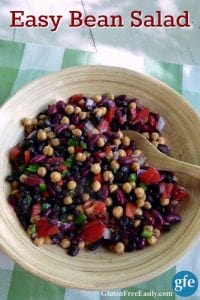 Easy Bean Salad
Ingredients
one can of black beans (rinsed and drained)
one can of kidney beans (rinsed and drained
one can of chickpeas (also known as garbanzo beans, rinsed and drained)
one bell pepper, diced (red, green, yellow, your choice--or a mixture)
2 to 3 tomatoes, diced
¼ cup red onion, finely chopped
Dressing Ingredients
¼ cup extra virgin olive oil
Juice of half a lemon (or a whole lemon, if you prefer)
2 garlic cloves, minced
½ to 1 tsp Herbamare seasoning (or similar type seasoning like Beau Monde; I used Seasonello and omitted the sea salt)
½ to 1 tsp sea salt
1 tbsp chopped fresh cilantro (totally optional, I like it both with and without cilantro)
Instructions
In large bowl, mix all ingredients except the dressing ingredients. Set aside.
Add olive oil to large glass measuring cup to ¼ cup mark. Add lemon juice, seasoning of choice, and sea salt. Mix well.
Pour dressing over remaining ingredients in large bowl. Mix well.
Serve at room temperature or chill before serving.
Notes
Makes at least 8 servings.
Courses Salad, Side Dish
Recipe by gfe--gluten free easily at https://glutenfreeeasily.com/easy-bean-salad-gluten-free/