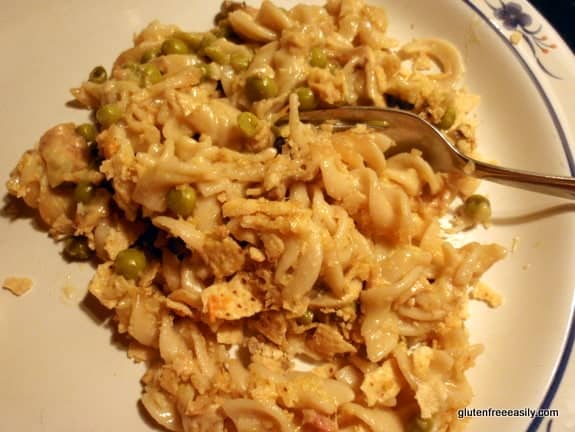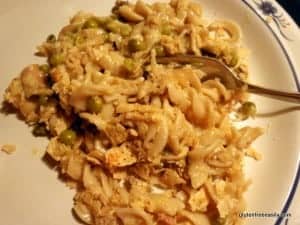 Easy Pea-sy Cheesy Gluten-Free Tuna Casserole (or Salmon Casserole)
Ingredients
About 1 tbsp or so of extra virgin olive oil
About 1 to 1 ½ cups sliced mushrooms
½ cup onion (about half an onion)
1 cup canned coconut milk
1/3 cup almond milk
1 can tuna, drained (salmon will also work)
1 cup cooked peas
1 cup shredded cheese, optional (I have also used dairy cheese, Daiya cheddar-style shreds, or omitted)
¼ cup almond flour, optional (see notes)
1 ½ cups gluten-free pasta, cooked (I used these Goldbaum's brown rice spirals)
about 1/3 cup crumbled tortilla chips, crumbled potato chips, or almond flour (enough to cover surface)
Parmesan cheese, grated (optional)
Instructions
Preheat oven to 400 degrees Fahrenheit. Grease medium-sized casserole dish.
Saute onion and mushrooms in olive oil at medium to medium-high temperature in large skillet. When onions are translucent and mushrooms have released their liquid, slowly stir in coconut milk and almond milk. Cook about 5 minutes more on medium stirring often until the mixture thickens and is reduced slightly.
Add tuna, peas, cheese (if used), almond flour (if used), and cooked pasta. Mix well and transfer to casserole dish.
Top with crumbled tortilla chips, crumbled potato chips, or almond flour. Sprinkle grated Parmesan cheese over all, if desired.
Bake uncovered about 15 to 20 minutes until hot.
Notes
I usually use tuna packed in olive oil, so I drain the can into the skillet and use that olive oil plus a little more for sautéing the onions and mushrooms.
I cook my pasta while I'm completing the first few steps of the recipe. If I leave out cheese in the casserole itself, I usually add almond flour.
The casserole topping I use depends upon what I have available. For the version shown here, Mr. GFE had just finished a bag of tortilla chips after a few days of snacking and there were just enough chip fragments in the bottom of the bag to crumble more and sprinkle over the top.
Last, tuna is one fish that contains mercury. While general guidance is that the health benefits of eating tuna occasionally outweigh the negatives, some individuals like pregnant women and those with heavy metal issues should avoid tuna. Please do your research and use your best judgment on consuming tuna. If you would like an alternative, a packet of wild-caught salmon would be a great choice.
Courses Entree
Recipe by gfe--gluten free easily at https://glutenfreeeasily.com/finding-balance-for-gluten-free-heathy-living-in-your-pantry-easy-pea-sy-cheesy-tuna-or-salmon-casserole/