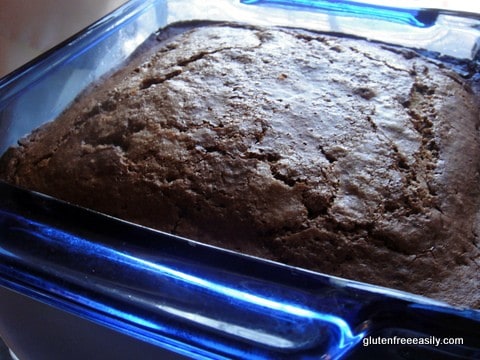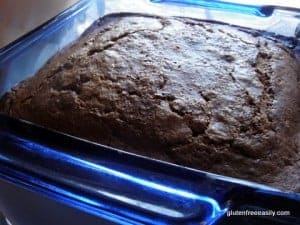 Jules' Coffee Cake
Reprinted with permission from Jules E. Dowler Shepard and DaCapo Press From Jules: "I tend to think any cake is fair game for breakfast, but, if you're more traditional, you'll love this crumb-topped classic. Time it just right so you can serve and eat it warm, and your day will be off to a fabulous start—guaranteed."
Ingredients
Cake
1 ripe banana
½ cup black coffee, prepared
½ cup packed light brown sugar
½ cup butter or nondairy alternative, softened
2 large eggs or egg substitute of choice (like Ener-G Egg Replacer or Egg Substitute)
2 teaspoons vanilla extract, gluten-free
2 teaspoons pumpkin pie spice
2 cups Jules Gluten Free All Purpose Flour
¼ cup mesquite flour (or Jules Gluten Free All Purpose Flour)
2 teaspoons baking powder, gluten-free
½ teaspoon baking soda
Streusel Topping
(Double if you really like streusel. Not shown in photos.)
2 tablespoons butter or nondairy alternative, softened
2 tablespoons light brown sugar
½ teaspoon cinnamon
Instructions
Preheat the oven to 350 degrees (static) or 325 degrees (convection). Oil or spray an 8 x 8-inch baking pan.
Mash the banana in a medium-size bowl. Pour coffee over the banana and set aside. Beat the sugar and butter together in a large bowl until light and fluffy. Add the eggs and vanilla and combine well. Mix in the mashed banana and coffee then gradually stir in the remaining ingredients, mixing until thoroughly combined.
Pour the batter into the prepared pan and set aside.
In a small bowl, stir together the topping ingredients with a fork. Crumble over the cake, then cut through the topping with a butter knife in a crisscross fashion lengthwise, then crossways, feathering the topping in the top of the batter.
Bake for 40-45 minutes, or until the edges are lightly crisp and a cake tester inserted in the middle comes out clean.
Recipe by gfe--gluten free easily at https://glutenfreeeasily.com/free-for-all-cooking-giveaway-gluten-free-coffee-cake-recipe/