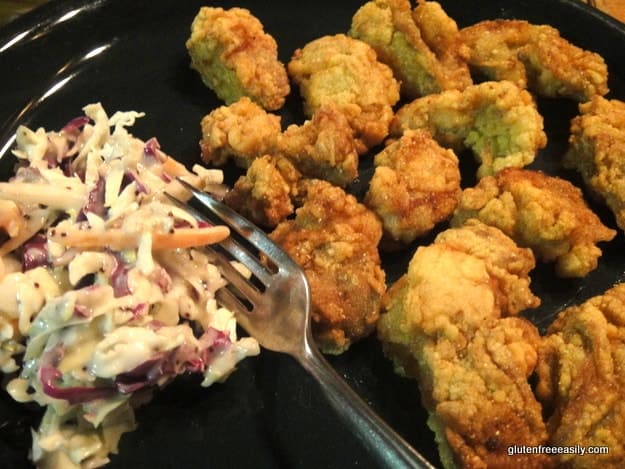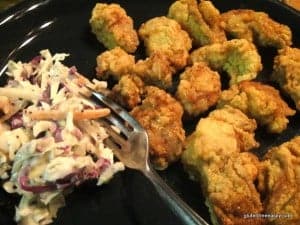 Gluten-Free Fried Oysters
These gluten-free Fried Oysters, Southern Fried Oysters, require only a few ingredients but they sure make Mr. GFE and other oyster lovers in my family happy!
Ingredients
1 cup cornmeal (I use certified gluten-free cornmeal)
1 cup gluten-free all-purpose flour mix (I use my Two-Ingredient Gluten-Free Flour Mix)
2 tsp baking powder
1 tsp salt
2 eggs
2 tbsp milk (dairy or non-dairy)
1 pint raw, shucked oysters
cooking oil (your preference; I used grapeseed oil, about 1/2 inch or so deep in pan)
Instructions
Mix cornmeal, gluten-free flour mix, baking powder, and salt. Leave mix in bowl for the oyster dredging method or pour into a paper/Ziploc bag if you prefer a shake method for breading.
Beat eggs and mix with milk in small bowl.
Dip oysters, one at a time, in egg/milk mixture.
Dredge oysters (again, one at a time) through cornmeal mix until thoroughly coated. (Or, add one at a time to bag and shake until adequately coated.)
Place breaded oysters on a plate until you are ready to fry them.
Fry oysters in skillet in oil at medium-high temperature (about 375 degrees if you are using an electric skillet). Cook until golden brown on each side. At this high temperature, you won't have to fry very long. Drain on paper towels. Enjoy!
Notes
Adapted from Southern Living.
If you are frying a lot of oysters at once, you will need more oil, of course ... maybe adding enough to be an inch or more deep in the skillet.
As you can see, I just made my "cheat" cole slaw (cole slaw veggies mixed with poppyseed dressing---ready- made Brianna's dressing or my homemade recipe) to go along with Mr. GFE's oysters. He was quite pleased with that combination!
Recipe by gfe--gluten free easily at https://glutenfreeeasily.com/fried-oysters-progressive-dinner-party/