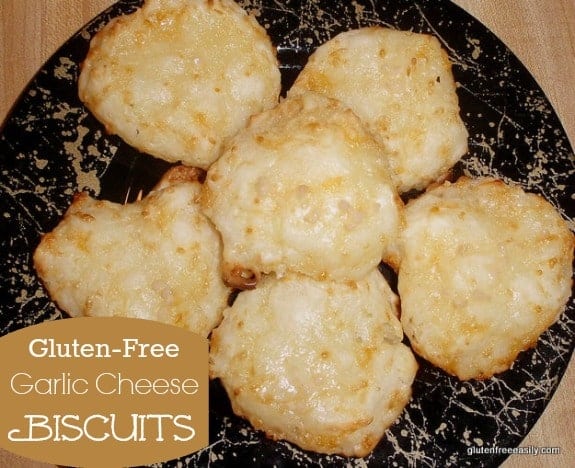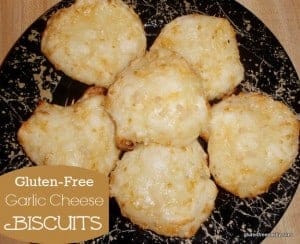 Gluten-Free Garlic Cheese Biscuits
Hot out of the oven, these biscuits are fabulous! One reader even uses the recipe to make pizza crust!
Ingredients
Biscuit Ingredients
Topping Ingredients
2 tbsp butter, melted (see notes for dairy-free option)
1 clove garlic, minced
Instructions
Preheat oven to 450 degrees Fahrenheit.
In a large mixing bowl, sift together flour, salt, baking powder, and xanthan gum. Cut in butter until mixture has pea-sized flour-coated butter pieces throughout.
Make a well in the center of the mixture. Add the milk and cheese to the well and stir to combine.
Drop batter by spoonfuls onto a greased baking sheet or a baking sheet lined with parchment paper. 
Bake in preheated oven for 12 to 15 minutes until lightly browned. Keep an eye on them though. Mine were cooking pretty quickly. I actually turned the oven down to 350 degrees the last couple of minutes, but that change could be just necessary for my "fast" oven.
While biscuits are baking, melt butter and mix with minced garlic. Spoon in equal portions onto the biscuits.
Makes about 16 biscuits (about 2 inches in diameter).
Notes
Adapted from allrecipes.com.
Reader Mary makes these biscuits dairy free and soy-free as well, due to intolerances in her family. (Soy is not present in my original recipe, but it is often contained in dairy-free products.) She states that she uses Earth's Balance soy-free, dairy-free margarine and cheddar-style Daiya cheese. She's used both rice milk and coconut milk with good success.
The following are some general notes on the ways I've made these biscuits:
The original directions called for brushing the butter and garlic mix on the biscuits, but that's a bit of a pain to me and I don't want anything else to wash. Spooning the butter-garlic mixture over the hot biscuits worked just fine. Actually, next time I will probably just skip that step and add some minced garlic right to the biscuit mixture. The biscuits are plenty buttery on their own.
Another reader uses this recipe to make two very thin 12-inch pizza crusts. She uses half Parmesan, half cheddar in her recipe. She bakes the crust until it's done before adding her pizza toppings.
Courses Bread
Recipe by gfe--gluten free easily at https://glutenfreeeasily.com/garlic-cheese-biscuits-gluten-free/