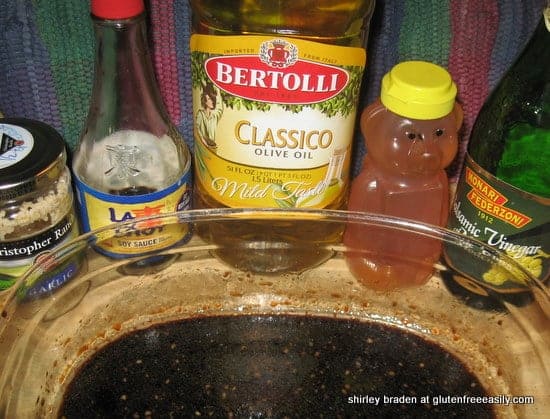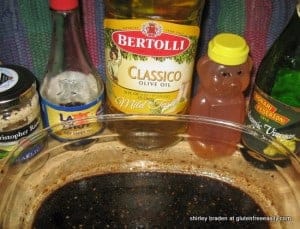 Ginger-Glazed Mahi Mahi with Pico de Gallo
Ginger-Glazed portion of recipe Adapted fromAllrecipes.com; Pico de Gallo portion is my own.
Ingredients
Ginger-Glazed Mahi Mahi
3 tablespoons honey (or maple syrup)
3 tablespoons soy sauce (ensure that it's gluten free; I limit soy, but if you don't use it at all, just substitute some molasses and perhaps a little more balsamic vinegar for a similar flavor)
3 tablespoons balsamic vinegar
1 teaspoon grated fresh ginger root
2 cloves garlic, crushed or minced
2 tablespoons olive oil
4 (6-ounce) mahi mahi fillets (or similar amount, less is fine---you'll just have extra sauce)
sea salt and fresh ground pepper to taste
1 tablespoon vegetable oil
Pico de Gallo
Yellow pepper, finely chopped
Red pepper, finely chopped
Vidalia onion, finely chopped
Cilantro, finely chopped
Instructions
Ginger-Glazed Mahi Mahi
In a shallow glass dish or Ziploc bag, stir together the honey (or maple syrup), soy sauce, balsamic vinegar, ginger, garlic, and olive oil. Season fish fillets with sea salt and fresh ground pepper, and place them in dish or bag. (Place skin side down, if applicable.) Cover dish or close bag, and marinate 20 minutes in refrigerator.
Heat vegetable oil in a large skillet over medium-high heat. Remove fish from the dish, and reserve marinade. Fry fish for 4 to 6 minutes on each side, preferably turning only once, until fish flakes easily with a fork. Remove fillets to a serving platter and keep warm.
Pour reserved marinade into the skillet, and heat over medium heat until the mixture reduces to glaze consistency (which will take a minute or two). Spoon glaze over fish. Make pico de gallo (as shown below) and top the fish. Serve immediately.
Pico de Gallo
Stir all together and serve over fish, chicken, etc. Ingredients can be varied based on what you have on hand and your individual preferences. Similarly, just use amounts per what you have and what ratio/mixture looks most appealing to you.
Recipe by gfe--gluten free easily at https://glutenfreeeasily.com/ginger-glazed-mahi-mahi-with-pico-de-gallo/