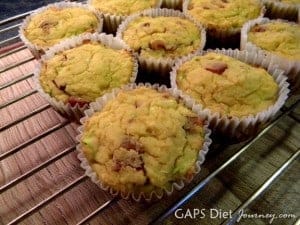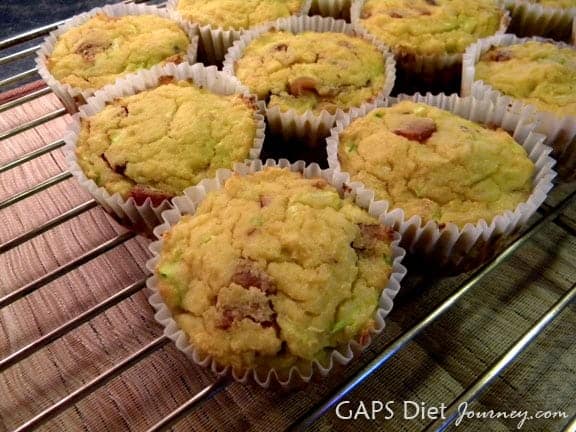 Bacon Muffins from GAPS Diet Journey
Ingredients
4 whole eggs
1/2 cup coconut flour
1/3 cup bacon grease, liquid state
1-1/2 cup steamed cauliflower, pureed (about 1 small head of cauliflower)
1/2 teaspoon salt
1 cup zucchini squash, peeled, shredded and squeezed (1 medium zucchini)
4 slices thick bacon, fried and diced
1 teaspoon baking soda
Instructions
Steam cauliflower well above water level until fork tender – you don't want the cauliflower to swim in the boiling water as it will absorb too much liquid and be too wet for the batter. Remove and blend using a food processor, Magic Bullet or stick blender until pureed.
Peel the zucchini, and shred it. Measure one cup of the zucchini shreds, place in a cotton kitchen towel and squeeze the liquid out.
Dice the bacon into small squares.
Insert cupcake papers into muffin tin, or grease and flour using coconut flour.
Preheat oven to 350°F.
To a large mixing bowl add the four eggs, coconut flour, bacon grease, pureed cauliflower and salt. Mix with a whisk or hand mixer for one minute until well blended.
Allow to sit one minute so that coconut flour can absorb the fluids.
Add bacon and zucchini into the batter, mix thoroughly with a spoon.
At the very end, add in the baking soda and mix just until it is well mixed into the batter.
Drop spoonfuls of batter into the muffin tins.
Bake 25 minutes, or until a toothpick inserted in the middle comes out clean.
Courses Breakfast, Lunch, Dinner
Recipe by gfe--gluten free easily at https://glutenfreeeasily.com/gluten-free-bacon-muffins-gaps-diet-journey/