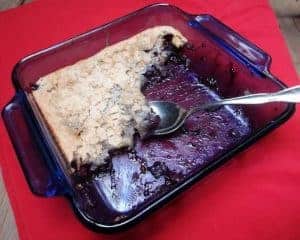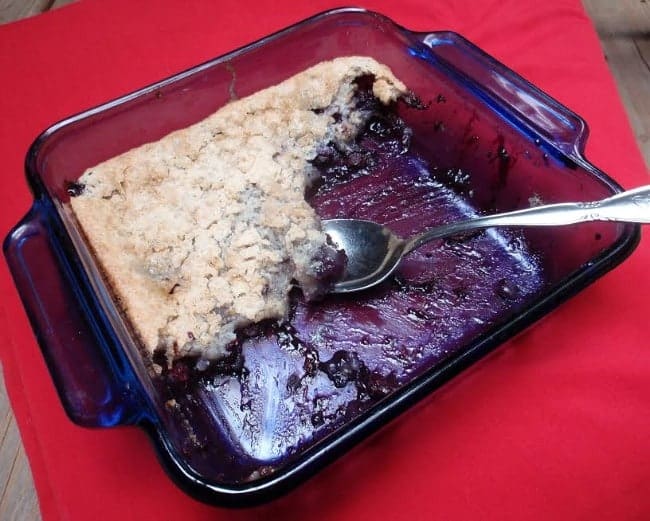 Gluten-Free Blueberry Cobbler
Gluten-free blueberry cobbler just got a whole lot easier--but totally delicious--with this recipe that's basically just gf flour, milk, sugar, and blueberries.
Ingredients
1 pint fresh blueberries
1 cup gluten-free flour mix (like my Two-Ingredient Flour Mix; see additional options in notes)
1 ½ tsp baking powder
¼ tsp sea salt
3/4 cup granulated sugar (more or less per your personal preference and/or depending on the sweetness of the blueberries)
1 cup of milk (dairy or non-dairy; I prefer full-fat coconut milk)
About ½ tsp ground cinnamon
Instructions
Preheat oven to 350F degrees.
Lightly grease 8 x 8 baking dish.
Pour blueberries into baking dish.
In medium bowl, whisk flour, sugar, and milk together until well blended. Pour batter over the blueberries.
Sprinkle cinnamon evenly over batter.
Bake for about 40 to 45 minutes, until the top of the cobbler is golden brown. You can also test your cobbler with a toothpick to ensure that it is baked through if you wish.
Notes
A gluten-free flour mix works perfectly in this recipe. I also made versions using almond flour by itself and almond flour with a little sweet rice flour mixed in. There are probably several other single gluten-free flours that can be used successfully as the flour in this recipe. I'm thinking sorghum flour, buckwheat flour, oat flour (use oat flour made from certified gluten-free purity protocol oats), and the like. I used all sweet rice flour in one version and the results were super chewy. We liked it, but the next day it was even chewier---and very difficult to cut or spoon out a serving---so I don't recommend using sweet rice flour by itself or using a mix with a lot of sweet rice flour.If you are making your cobbler grain free, you can use this grain-free baking powder.
Courses Dessert
Recipe by gfe--gluten free easily at https://glutenfreeeasily.com/gluten-free-blueberry-cobbler/