For affiliate links and as an Amazon Associate I earn from qualifying purchases.
For Day 21 of March Muffin Madness, we have Gluten-Free Blueberry Muffins from Stephanie Weaver of The Migraine Relief Plan (MRP).
Two other blueberry muffins have been shared for MMM thus far. Gluten-Free Blueberry Granola Muffins (Oat Free) and Keto Blueberry Streusel Muffins. Historically, blueberry muffins have been very popular during MMM.
And really can we have too many blueberry muffin recipes? I think not.
I mean look at Stephanie's gorgeous blueberry muffins! Plus, today's Gluten-Free Blueberry Muffins are not only pretty and delicious, they also fit into the category of migraine-relief recipes and come from The Migraine Relief Plan Cookbook.
Take a quick look at the recipe below though. Despite being MRP-compliant, you won't see any "weird" ingredients!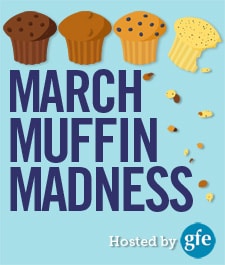 Some of you may know Stephanie as I do, as the Recipe Renovator, her former site and moniker in the blogging world. That was the name that she adopted as she made recipes work for her while also making them healthier.
That site now lives on as MigraineReliefRecipes.com. It houses over 400 gluten-free (and "more-free") recipes.
Stephanie's current site is The Migraine Relief Plan.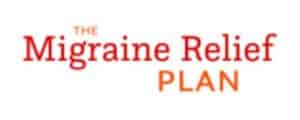 Likewise, her earlier book was The Migraine Relief Plan, the precursor to today's featured cookbook, The Migraine Relief Plan Cookbook: More Than 100 Anti-Inflammatory Recipes for Managing Headaches and Living a Healthier Life.
Stephanie's The Migraine Relief Plan and The Migraine Relief Plan Cookbook both get 5-star reader reviews from folks who say her plan and accompanying recipes have changed their lives. In fact, since the publication of her first migraine relief book, Stephanie says she hears from at least one person a week who tells her that and of course, thanks her profusely!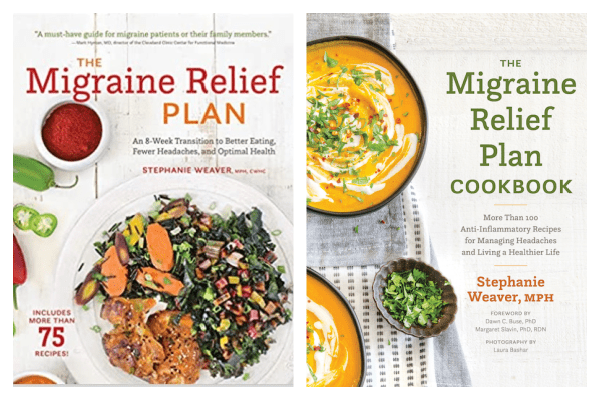 I found that definitely noteworthy and frankly, almost astounding—in the best possible way—as so many of us have encountered doctors who have told us that diet would have little to no effect on our health conditions and symptoms.
I'm truly heartened to hear that Stephanie's books are both being recommended by healthcare professionals and changing lives.
Going gluten free eliminates headaches (including migraines) for some of us and I'm actually in that group myself. Now, after living gluten free for almost 20 years, a headache is usually one of the first symptoms that I've been "glutened."
Unfortunately, removing gluten alone is not the answer for everyone with migraines. Or may be only part of the answer.
There are additional triggers for many people who suffer from migraines. Stephanie addresses all of them and offers readers an 8-week plan in The Migraine Relief Plan: An 8-Week Transition to Better Eating, Fewer Headaches, and Optimal Health (which also includes 75 recipes).
Her new book, The Migraine Relief Plan Cookbook: More Than 100 Anti-Inflammatory Recipes for Managing Headaches and Living a Healthier Life, offers more than 100 new recipes to ensure anyone can successfully navigate the migraine-free way of living.
I feel like many of us only have a very vague idea of migraine triggers. I was very enlightened by Stephanie's Ten Substitutes for Migraine-Friendly Eating.
While this list is eye-opening, it's just the tip of the iceberg as far as the information Stephanie presents in her migraine relief books.
Stephanie's own personal experiences with migraines and migraine relief as well as her Master's of Public Health in health education, her former career in curriculum development, her awareness of the lack of helpful information for those who suffer from migraines, and her experience in "renovating" recipes to work for various needs all led to her researching and writing her Migraine Relief books.
She wanted to create a book that would serve as a migraine wellness coach right by the reader's side. As part of her research, she joined online communities of everyday folks who suffered from migraines and reached out to experts and advocates in the migraine arena, identifying herself as someone with chronic illnesses (i.e., migraines, Meniere's disease, fibromyalgia, and thyroid disease).
Eventually, she developed her 8-week plan and conducted free classes online in the community she'd established—with amazingly positive feedback. Her Migraine Relief Plan books are a way to get that information to many more people experiencing migraines.
Note that Stephanie does address the fact that some in the medical community still consider migraine triggers to be controversial but do agree that migraines are an inflammatory condition that may be moderated with an anti-inflammatory diet and lifestyle changes.
And that's a good reminder to always check with your own healthcare professional before embarking on diet and lifestyle changes. The two of you—you and your doctor—know your own health history, medication list, etc. All that matters.
Obviously, I can't begin to capture all that is in Stephanie's migraine relief books. If you or someone you love is affected by migraines, you will want to check out her site and her books.
Luckily for you all, the newest one is featured in today's giveaway! You can also see Stephanie in action and get a quick lesson on some migraine triggers and some excerpts from her cookbook here. Oh, and you can get her free travel guide for following the migraine relief plan while on the go here.
I do want to note that in the front of Stephanie's cookbook, she states that certified gluten-free oats should be used in her recipes that call for oats. Those of us who need to eat gluten free for medical reasons need oats that are both certified gluten-free and purity protocol. A gluten-free certification label is not enough.
Sadly, and disturbingly, oats that are not purity protocol continue to be certified gluten free. Yes, that's right. "Certified gluten free" on oats does not mean that those oats have been grown, harvested, and processed using the purity protocol to ensure that they come in contact with no gluten grains. Mechanically separated/optically sorted oats have hot spots of gluten-full grains and people continue to get ill from them.
UPDATE: On April 4, 2023, Gluten-Free Watchdog issued a new statement, Gluten-Free Watchdog Cannot Recommend Any Brand of Gluten-Free Oats. Read the full statement here.
This statement was followed by details on recent testing results of gluten-free products that contain oats, which showed 30% of the labeled gluten-free oat products tested contained quantifiable gluten. I'm not eating any oats and I urge all of my readers who eat gluten free for medical reasons to also abstain.
In reply to further questions from readers about specific brands, Tricia Thompson replied: "Testing oats for gluten cross-contact is tricky. It is like looking for a needle in a haystack. Why? Because errant wheat and barley are not evenly distributed. The number of oat samples testing with quantifiable gluten is unprecedented for GFWD. At this time, we cannot recommend any brand of labeled gluten-free oats."
Be sure to follow Stephanie on her site, Facebook, Instagram, Twitter, and Pinterest. And now back to her lovely MRP-compliant Gluten-Free Blueberry Muffins!
Gluten-Free Blueberry Muffins (MRP-Compliant) Recipe
Stephanie says: "This recipe was inspired by a favorite podcast, The Satellite Sisters. The hosts are real-life sisters whose mother, Edna Dolan, made blueberry muffins every Fourth of July from a recipe she adapted from the New York Times.
Bursting with fresh or frozen blueberries, they make a terrific snack plain or slathered with butter, served with your favorite cup of tea."
Yield: 12 muffins
Gluten-Free Blueberry Muffins (MRP-Compliant)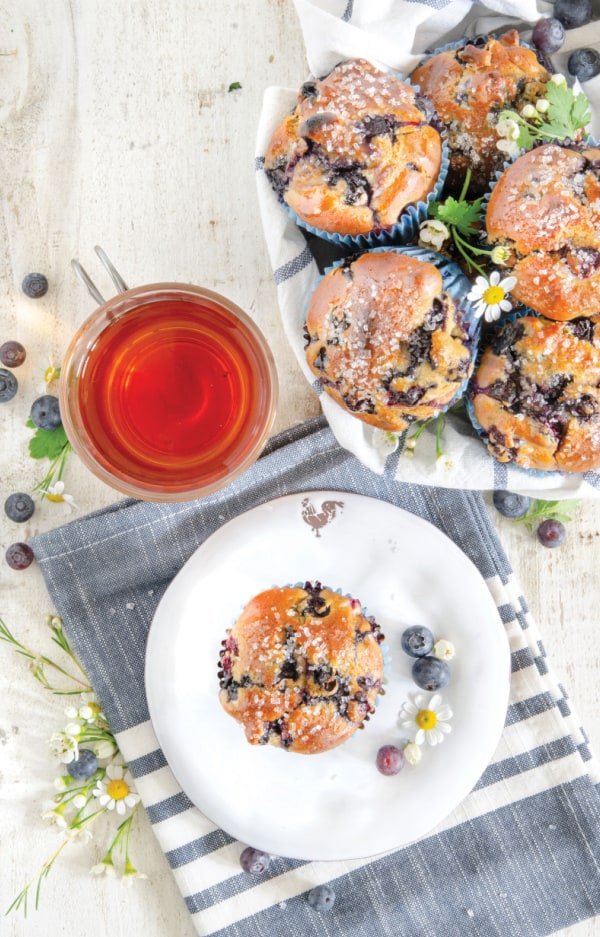 Stephanie says: "Bursting with fresh or frozen blueberries, these Blueberry Muffins make a terrific snack plain or slathered with butter, served with your favorite cup of tea."
Additional Time
15 minutes
Ingredients
1¾ cups (260g) high-quality gluten-free flour mix, sifted (Shirley here: Stephanie also has her own gluten-free flour mix in her cookbook)
1 tablespoon regular or sodium-free baking powder
¼ cup plus 2 tablespoons (60g) coconut sugar, plus more for sprinkling
Stevia to equal 3 teaspoons sugar
3 eggs
½ cup (118mL) whole milk, hemp milk, or coconut milk (see notes)
¼ cup (59mL) olive oil or 4 tablespoons melted butter
2½ cups (375g) blueberries, fresh or frozen
Instructions
Preheat oven to 425ºF (220ºC). Line muffin tins with 12 paper liners or place silicone muffin liners on a baking sheet.
In a medium bowl, whisk the flour, baking powder, sugar, and Stevia together until well combined.
In a large bowl, beat the eggs with a hand or stand mixer fitted with the paddle attachment for three minutes until thick and creamy. Stir in the milk and olive oil, then stir in the flour mixture until just combined. Do not overmix.
Carefully fold in the berries.
Distribute the batter evenly in the lined muffin tins.
Sprinkle lightly with additional coconut sugar.
Place the muffin tins on the middle rack of the oven.
Bake for 25 to 28 minutes, or until the muffins are golden brown and the tops are cracked.
Remove muffins from the tins and cool on wire racks.
Notes
Sift or fluff the flour before measuring.
If the blend you buy or use does not include xanthan gum or psyllium husk powder, whisk 2 teaspoons xanthan gum or psyllium husk powder into the dry ingredients in Step 2.
Organic cane sugar can be substituted for the coconut sugar.
Very large blueberries will produce delicious but unevenly shaped muffins.
If buttermilk is not a trigger for you, use it in place of the milk for incredible results.
Recipe reprinted with permission from The Migraine Relief Plan Cookbook by Stephanie Weaver, Agate, July 2022.
Today's MMM Prizes
All giveaways are now closed. Thanks to all who participated!
~ Cookbooks
~ The Migraine Relief Plan Cookbook: More Than 100 Anti-Inflammatory Recipes for Managing Headaches and Living a Healthier Life (two winners; sponsored by Stephanie Weaver and Agate Publishing)
Obviously, I've already shared a lot about Stephanie's new cookbook above. To read more, click on the link above to see it on Amazon and click on the "Look Inside" link to see sample pages and search for anything of particular that you're interested in. Also, read some of the reader reviews for yourself.
~ Baking/Cooking Ingredient
~ NuNaturals NuStevia Alcohol Free Liquid Stevia Drops Natural Liquid Sweetener, Sugar Free, 295 Servings (2 oz) (one winner; sponsored by gfe)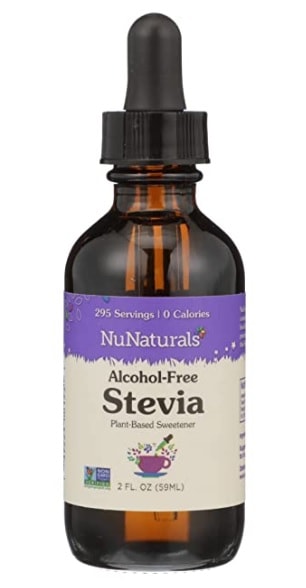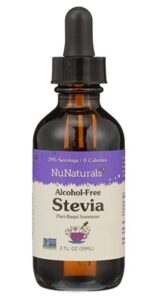 Today's recipe calls for stevia as one of the sweeteners. If you want to use stevia, the NuNaturals brand is definitely the one that I—and many others in the food community—recommend! Check out their site to see all their products, which have expanded significantly over the last several years. I have friends who flip over their syrups (chocolate, pumpkin spice, salted caramel, and more).
There are several ways to enter today's giveaway. You can enter via the Rafflecopter widget below or simply leave a comment here telling me which prizes you would like to win.
a Rafflecopter giveaway
Grand Prize Giveaway
All giveaways are now closed. Thanks to all who participated!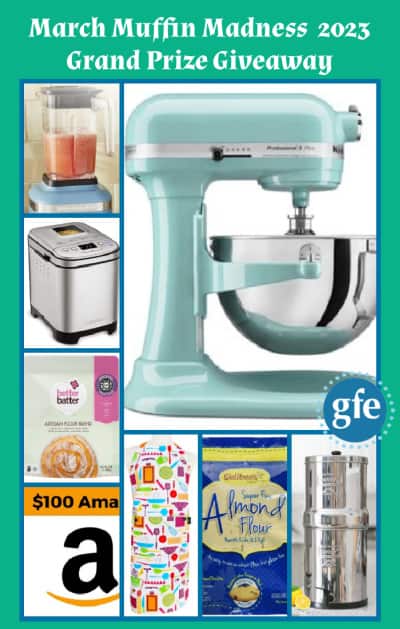 a Rafflecopter giveaway
Originally published April 2, 2023; updated April 17, 2023.