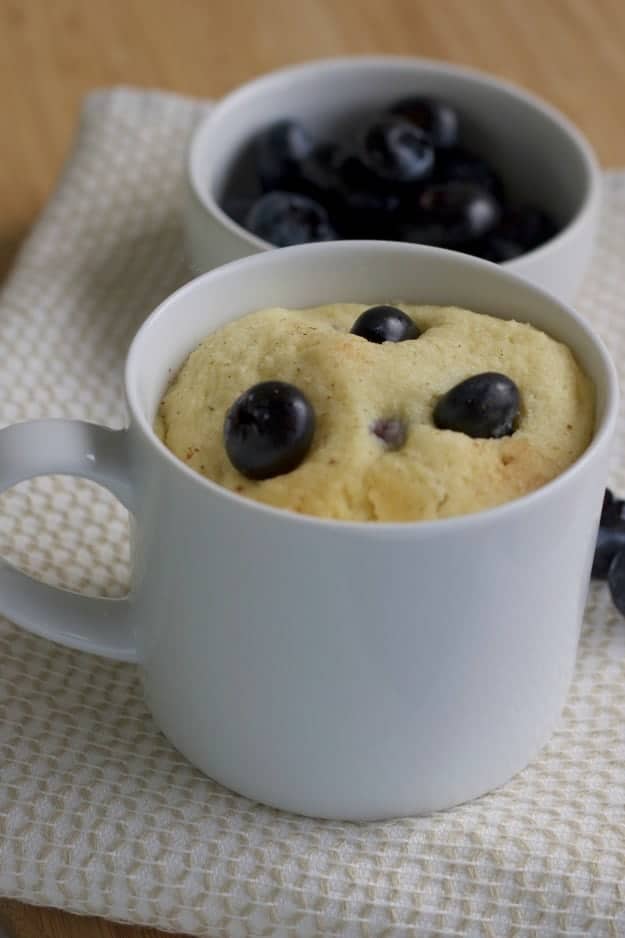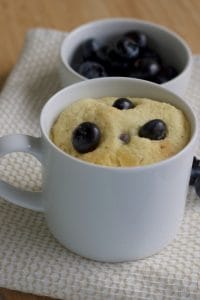 Gluten-Free Blueberry Mug Muffin (Keto)
Suzanne says: "I love a good mug muffin! Sometimes it's nice to have a simple and quick recipe that doesn't involve large amounts of specialty flours or dirty dishes! Enjoy this muffin warm and topped with butter, all in under 10 minutes!"
Ingredients
3 tablespoons blanched almond flour
1 tablespoon coconut flour
1 tablespoon Swerve confectioners-style sweetener
1⁄4 teaspoon baking powder
Pinch of salt
1 large egg
1 tablespoon unsalted butter, softened
1 teaspoon avocado oil
1⁄4 teaspoon vanilla extract
8 blueberries
Salted butter, for serving (optional)
Instructions
Place the almond flour, coconut flour, sweetener, baking powder, and salt in a medium-large microwave-safe mug and blend with a fork.
Add the egg, butter, avocado oil, and vanilla; mix well.
Gently stir in the blueberries. Use the back of a spoon to press the batter down and smooth the top.
Place the batter-filled mug in the microwave and heat for 1 minute 15 seconds. (The cooking time may vary depending on your microwave. If the muffin is not fully formed after 1 minute 15 seconds, continue cooking in 15-second increments.) Carefully remove the mug from the microwave—it will be hot—flip it upside down over a plate and allow the muffin to slide out of the mug onto the plate. Place the muffin on its side and slice in half.
Spread with butter, if desired, and enjoy!
Notes
Makes one mug muffin.
Reprinted with permission from Suzanne Ryan and Victory Belt Publishing. Nutritional information on this recipe (per Simply Keto) is as follows: CALORIES: 372 | FAT: 33 g | PROTEIN: 12 g | TOTAL CARBS: 20 g | NET CARBS: 6 g
Shirley here: I have blueberries thawing right now and plan to give this recipe a go using coconut sugar and coconut oil. My version won't be keto but I'm guessing it will still be delicious.
Amount Per Serving

Calories 372

% Daily Value

Total Fat 33 g

51%

Total Carbohydrates 20 g

7%

Protein 12 g

24%
Recipe by gfe--gluten free easily at https://glutenfreeeasily.com/gluten-free-blueberry-mug-muffin-keto/