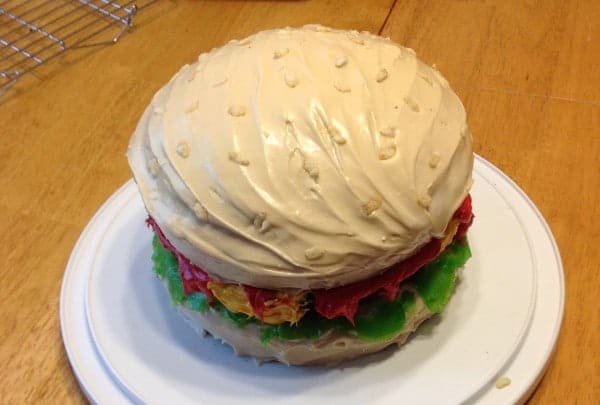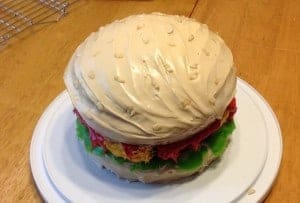 Gluten-Free Cheeseburger Birthday Cake
Ingredients
For the Caramel Bun Frosting
1 stick of butter
2/3 of a jar of caramel sauce (which happens to be about 2/3 cup)
1 tsp vanilla extract
4 cups of icing sugar (also known as powdered sugar or confectioner's sugar)
For the Ketchup, Cheese, and Lettuce
1 container gluten-free white frosting
red and yellow food coloring
Green gluten-free fruit snacks
For the Bun and Burger
Instructions
For the Caramel Bun Frosting
Mix the caramel and butter together well. Then add vanilla extract and mix.
Then add icing sugar one cup at a time, beating in between.
After my frosting is mixed I usually speed the mixer up and whip my frosting. I like the light texture it gets from being whipped.
For the Ketchup, Cheese and Lettuce
I scooped out some of the white frosting into two bowls and added red food coloring to one bowl to make ketchup and yellow (and a very, very small drip of red) to the other bowl to make the cheese color. Then I set it aside.
For the green "lettuce" I used GF fruit snacks. We call them gooey gooeys. I just picked out green ones and then flattened each with a rolling pin. Then I stretched them a bit to make them look ragged. You could also do this with green frosting just as easily.
For the Bun and Burger
For the bun, I just followed the directions for making a cake. I put it into two round pans and cooked as directed.
While the "buns" were cooking, I made the "hamburger" layer. I used one box of Glutino Decadent Chocolate Cake Mix. This particular box only made enough for one round pan, so it worked out for me. Again, I followed directions on the box.
Let everything cool completely.
Note that my two "buns" came out perfect, but my top bun did not have a round top, like a real bun. Thankfully my "hamburger"—which I made from the chocolate cake—rounded perfectly. So I carefully sliced off the top of the chocolate cake and reserved that for the top of my bun. (Another option would be to simply add more frosting to create a rounded bun.)
Putting It All Together
First I put the bottom bun down on my cake server and frosted it with the caramel frosting. Then I put the "lettuce" around the top edges, to make it look like the lettuce was hanging over. Then came the "hamburger" layer. The chocolate cake was the perfect color so no frosting is necessary here. Then I just used my imagination on trying to make the "cheese" melt over the sides. I spread the cheese frosting to the edges to get that look. Then I added the "ketchup" around the top edges of the chocolate layer. You do not have to be neat or perfect!! Then add a little frosting over the top of the "burger" for some "glue" to help your top bun stick.
OK … the top bun was a bit tricky. I put a nice glob of my store-bought frosting in the middle of the top to hold the sliced-off piece of my round chocolate layer that I was adding. Again, the frosting kind of acts like glue. I did not do this….but you should…..frost the edges of the top bun BEFORE you put it on the chocolate layer, the "burger." Trust me, it would be much easier. Carefully place your top bun onto the chocolate "burger" layer and continue to frost the top bun with the caramel frosting. Once you have it centered and placed, it will actually squish down a bit over the "cheese" and "ketchup" like a real burger.
For the "seeds" on the top bun I used GF Rice Krispies. I just placed them wherever I felt they looked good. After you place them on, gently press them down to stick to the frosting.
And that is it. A giant burger for your favorite GF kid! Or in my case, one of our closest friends, who is not at all GF, but loves my cooking. And happens to be a big kid!
Notes
From Shirley: Cherie told me "I hope it shows other parents that with a bit of work, they can make fun cakes too. GF does not have to be boring. :-) " So true!If you need a "more free" version of this Cheeseburger Cake, use the same approach, but use versions of the individual components that will work for you. For example, for a vegan chocolate cake "burger," you could bake this gfe vegan chocolate cake in a round cake pan. For a dairy-free, refined sugar-free caramel sauce, you might try Megan's (Allergy Free Alaska)"Liquid Gold" Caramel Sauce. Dairy-free, vegan frosting recipes abound if one wants a homemade frosting that is "more free." Erewhon Crispy Brown Rice Cereal is a sugar-cane free, natural choice for your "sesame seeds." And so on and so forth …you get the idea!
Recipe by gfe--gluten free easily at https://glutenfreeeasily.com/gluten-free-cheeseburger-birthday-cake/