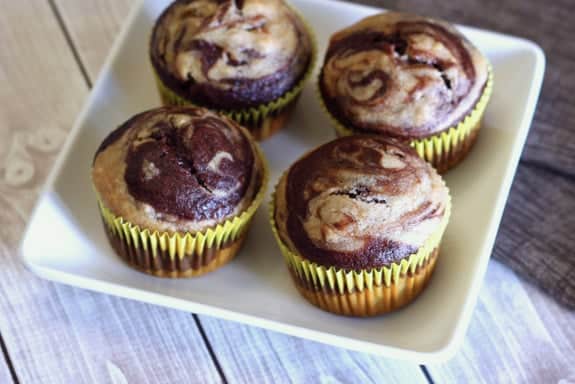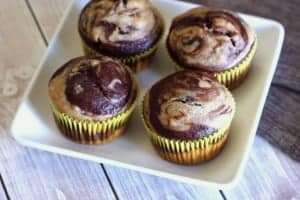 Gluten-Free Chocolate Banana Swirl Muffins
Yield 12
Instructions
Preheat oven to 350 degrees. Prepare muffin tin by lining with paper liners or spraying with nonstick cooking spray. In large mixing bowl, sift together 1 1/4 cup gluten-free flour blend, baking powder, baking soda and salt. Set aside. Mix together the mashed bananas, coconut milk, sugar, oil, maple syrup and vanilla. Add to flour mixture and stir to combine.
Take out 1 1/2 cups of batter and pour into separate mixing bowl. Add 1/4 cup additional gluten-free flour blend to one bowl of batter and 1/4 cup cocoa powder to remaining bowl of batter. Mix each batter until combined. Add 1 tablespoon of banana batter to each muffin well. Top with 1 tablespoon chocolate batter. Continue to alternate with batters until evenly distributed. Swirl batter gently with a toothpick.
Place muffins in preheated oven. Bake for 15-17 minutes or until toothpick inserted in center comes out clean. Place muffins on a cooling rack to cool completely. Store in air-tight container.
Courses Breakfast, Dessert
Recipe by gfe--gluten free easily at https://glutenfreeeasily.com/gluten-free-chocolate-banana-swirl-muffins-sarah-bakes-gluten-free-treats/