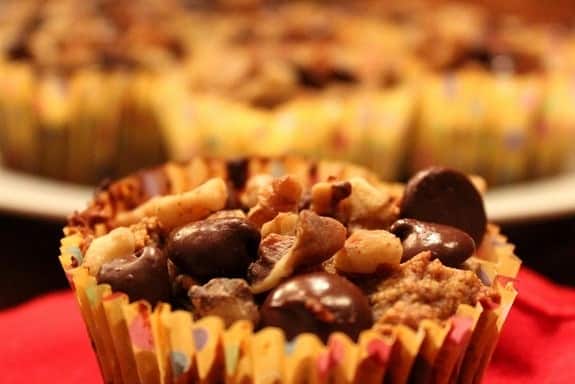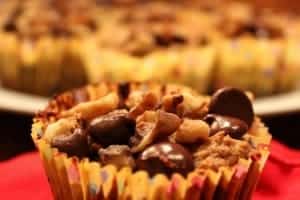 Gluten-Free Chunky Monkey Muffins
Ingredients
Here's where you choose your own adventure, for the last ingredient you must decide the flavor you'd like! To the mixture add ONE of the following:
Topping (Optional):
Instructions
In a food processor, puree together the dates and bananas until smooth.
Add remaining ingredients to food processor and pulse until a thick batter forms (scrape sides to fully incorporate but do not over blend).
♥Spoon into lined muffin tin, filling cups 2/3 full.
♥Toss topping ingredients together in small bowl, sprinkle on top of each muffin and press gently to get them to "stick."
Bake at 350F degrees for 16 - 18 minutes.
Notes
*We prefer fresh Medjool dates (usually found in the refrigerated produce section of the grocery store). We pit them ourselves and use them directly. If you are unable to find them (or find the cost too prohibitive) you can acquire a similar texture by re-hydrating dehydrated dates. Simply cover with boiling water for ten minutes, drain and use as instructed.
Don't forget to let your kids help with the easy steps (noted by a ♥). Sometimes cooking with kids can be a challenge. Finian poured in an entire ramekin of salt to our original batch (on accident) and although incredibly frustrating, it was a great learning lesson for us all. There are always teaching moments in the kitchen!
Courses Breakfast, Dessert
Recipe by gfe--gluten free easily at https://glutenfreeeasily.com/gluten-free-chunky-monkey-muffins-paleo-parents/