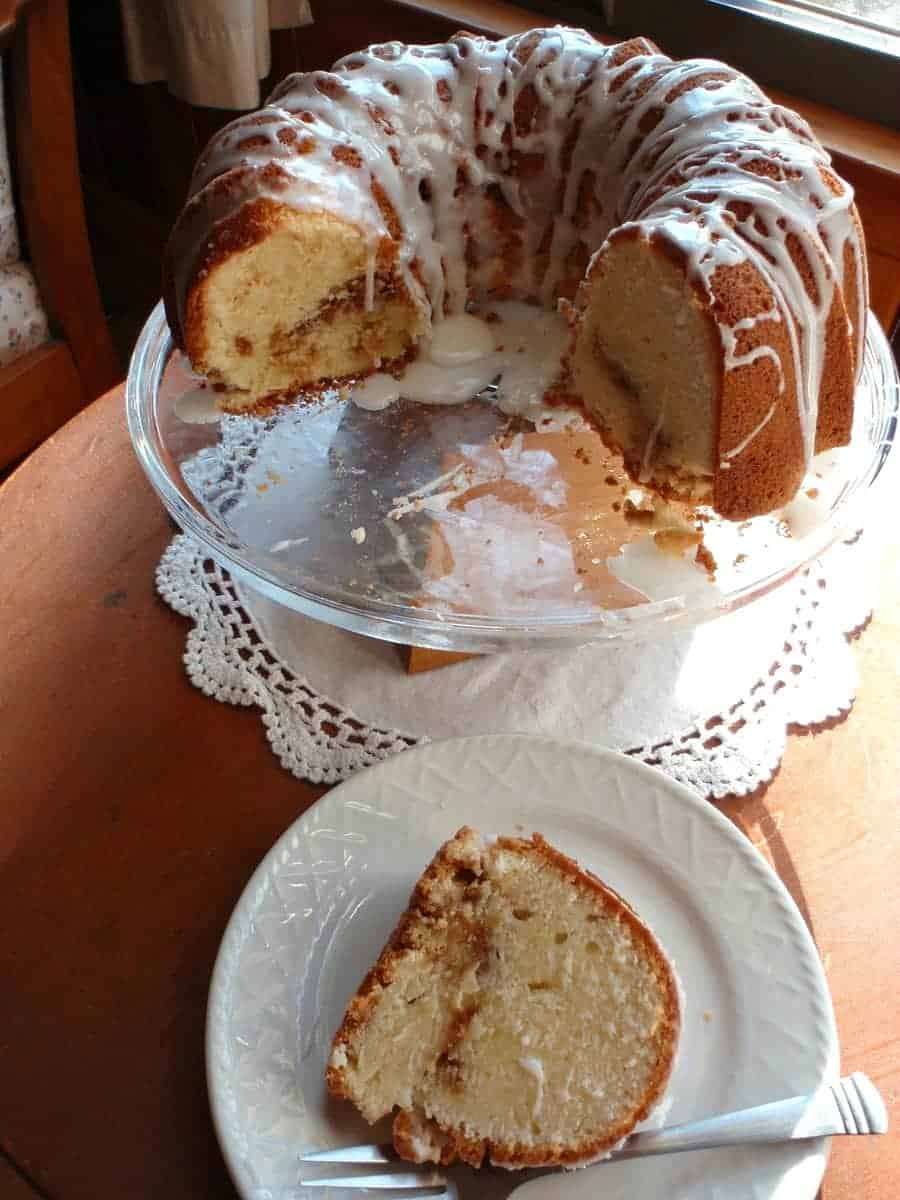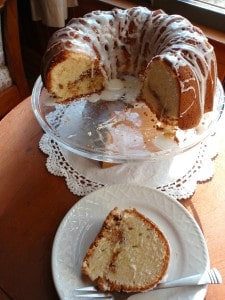 Gluten-Free Cream Cheese Pound Cake with Streusel Filling
This Southern Cream Cheese Pound cake with an optional Streusel Filling---is simply "to die for"!
Ingredients
Cake Ingredients
Streusel Filling Ingredients
¼ cup (½ stick) butter, melted
1 box gluten-free cookies (about 9 cookies), like shortbread, vanilla wafers, or even vanilla gf sandwich cookies, crumbled with some smaller "chunks" remaining (see notes for suggestions on how to make streusel without cookies)
½ cup brown sugar (or coconut sugar)
Glaze Ingredients
1 cup powdered (confectioners') sugar, sifted
2 to 3 tbsp milk (dairy or nondairy, see notes)
¼ tsp vanilla extract
Instructions
Preheat oven to 325F. Grease Bundt pan. (I used coconut oil spray.)
Cream butter and cream cheese together in a large mixing bowl until fully blended.
Gradually add granulated sugar, mixing well as you go.
Add eggs one at a time, stirring well after each addition.
Add flour mix gradually, stirring well and carefully (so you don't "lose" a lot of it) until fully incorporated.
Add vanilla extract. Blend well.
Add batter to Bundt pan, filling about a third of the way full.
Sprinkle Streusel Filling evenly over batter. Use butter knife to swirl into batter more, to evenly distribute if you wish.
Spread remaining batter over streusel mix.
Bake for about 1 hour and 20 minutes to 1 hour and 30 minutes. Test for doneness with toothpick. You don't want anything longer than a toothpick because if you hit the streusel layer you will think the cake has not finished baking. When the toothpick comes out clean and the cake is golden and crusty on the outside, this cake is done.
Cool in pan for about 20 minutes. (I like to place the Bundt pan on the neck of a full unopened bottle of wine to cool.) When cooled, invert over plate or cake plate to remove. Cool an additional 30 minutes or more.
Mix glaze ingredients in medium-sized bowl and drizzle over cake. (I use a teaspoon for the drizzling.) Let glaze set a minute or two.
Serve. Lightly cover to store. Sealing this cake in a container for regular storage is not recommended as it's a very moist cake. I have not frozen this cake, but I think freezing it will work well.
Notes
I do not recommend a bean-flour based gluten-free flour mix for this recipe.
For the glaze, start with the lesser amount of milk and increase if needed to get the right consistency for dripping.
There are lots of options for streusel filling. One simple recipe that does not use gf cookies can be made from the following ingredients. Simply mix all together and use in place of the streusel filling shown. 
4 tbsp melted butter
1/2 cup gluten-free flour
1/2 cup sugar
1/2 cup light brown sugar
1/2 tsp ground cinnamon
If you're not a streusel fan, you can simply leave it out. This cake will still be excellent as a Cream Cheese Pound Cake "on its own."
Courses Dessert
Recipe by gfe--gluten free easily at https://glutenfreeeasily.com/gluten-free-cream-cheese-pound-cake-with-shortbread-streusel-filling/