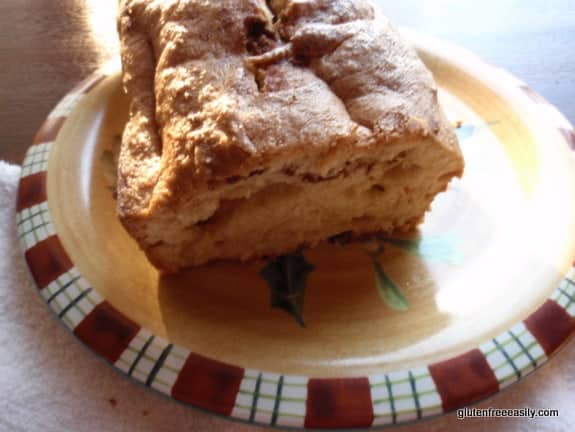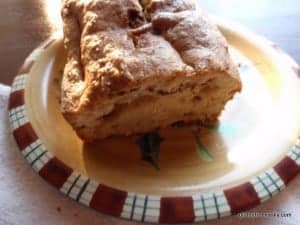 Gluten-Free Cinnamon Swirl Coffee Cake
This gluten-free Cinnamon Swirl Coffee Cake reminds me of Amish Friendship Bread, which seems appropriate as it's great to give to or share with your best buddies.
Ingredients
Coffee Cake Main Ingredients
Cinnamon Swirl Mix for Coating or "Filling"
Instructions
Preheat oven to 350F degrees. (See notes.)
Grease pans and then sprinkle with cinnamon-sugar coating, tilting pans again and again until well coated. Set aside.
Combine flour, xanthan gum, sea salt, and baking powder in an extra large measuring cup or separate bowl. Set aside.
Pour olive oil into large bowl, and slowly mix in sugar and vanilla extract.
Add eggs one at a time, stirring after each addition.
Add milk. Mix 2 minutes. Gradually add dry ingredients into wet ingredients, mixing well.
Spoon or pour a little of the batter into two prepared loaf pans. Sprinkle cinnamon swirl filling over all. (See notes for further directions/variations.) Top with remaining batter.
Bake for about 40 – 45 minutes.
Test for doneness with a toothpick. (As mentioned earlier, the cake may not look done in the center when you slice it, so don't skip this step.) I like my coffee cake crisper on the edges, so I turn the oven off when my coffee cake tests done, but I leave my coffee cake in a few minutes longer. Sometimes I leave the oven door open for this final step, just to ensure that I don't overcook my cake.
Notes
I used about half of the cinnamon-sugar mix to coat the pan and half as my filling. Feel free to make more of the mix and use more for coating or filling as you like. Also feel free to up the sugar amount for the coating if you want that crusted sugar effect more than a cinnamon look.
Coconut oil works in this recipe, but the cake is not as moist and flavorful as it is when light olive oil is used.
Pans can be greased with whichever oil you use.
Two loaf pans are what the original recipe calls for and what I used. Don't worry too much over the size of the pans, although you may have to adjust cooking times. The original recipe called for 6 3/4" x 3 1/2" x 2" loaf pans. I used 8 1/2" x 4 1/2" x 2 5/8" pans.
You can also use a Bundt pan to create a single cake. Baking time will be the same as for the two loaf pans.
There is no coconut flavor in this recipe from the coconut milk. However, if coconut oil is used, there is a slight coconut tone (unless you use expeller pressed coconut oil, which really has almost no coconut taste).
Last, I love the crunchy edges of this coffee cake recipe. Just like with my pound cake, the end pieces are my absolute favorite.
Reader notes:  One gfe reader lives at a higher altitude---6600 ft---she adjusts the oven temperature on my Perfect Pound Cake (the basis of this recipe) to 375F degrees, so I imagine that adjustment would work for this recipe as well.
Courses Breakfast, Dessert
Recipe by gfe--gluten free easily at https://glutenfreeeasily.com/gluten-free-dairy-free-cinnamon-swirl-coffee-cake-10-other-last-minute-gifts/