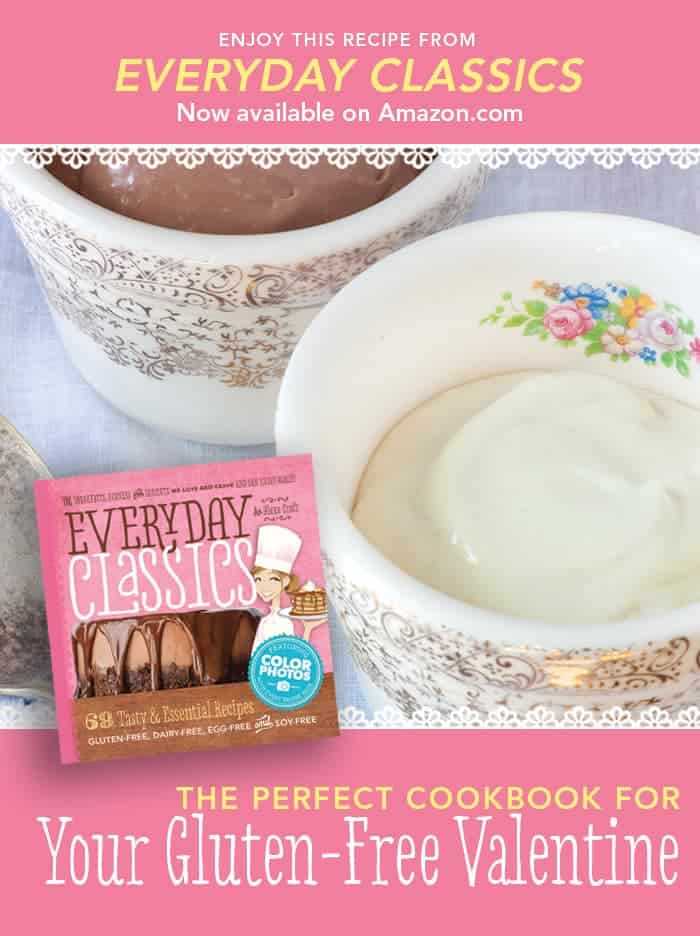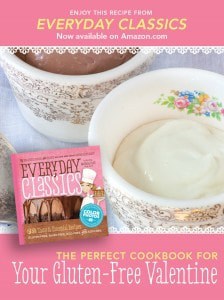 Vanilla Pudding
Lexie says: "I find these puddings reminiscent of Snack Pack pudding. Cocoa butter adds a remarkable white chocolate creaminess to the Vanilla Pudding while dark chocolate lends richness to the Chocolate Pudding. A good whipping with a hand mixer just prior to serving gives these sweet treats a super silky mouthfeel. Use these puddings in place of the boxed variety in pies and parfaits. Here is the recipe for Vanilla Pudding. The recipe for Chocolate Pudding is found in Everyday Classics: 68 Tasty & Essential Gluten-Free, Dairy-Free, Egg-Free and Soy-Free Recipes by Alexa Croft."
Ingredients
1/2 cup cold water
1 3/4 tablespoons gelatin
1 ounce cocoa butter
1/4 cup granulated cane sugar
1/4 cup pure maple syrup
2 (14 oz) cans full-fat coconut milk
1 tablespoon vanilla extract
1 teaspoon vanilla powder
Pinch salt
Dash ground turmeric for color, optional
Instructions
Add water to a small saucepan and sprinkle gelatin over surface. Warm mixture over low heat just until gelatin dissolves.
In a double boiler melt cocoa butter. Whisk in sugar and maple syrup and cook over medium heat until sugar begins to dissolve.
Whisk in coconut milk, dissolved gelatin, and remaining ingredients. Continue to cook until steam rises from surface.
Pour pudding into a medium mixing bowl or individual serving cups, and cover with plastic wrap. Chill until set, about 4-5 hours. For an extra silky pudding, chill in medium mixing bowl and beat until super smooth using an electric mixer prior to serving.
Notes
Lexie's Tips & Tricks: A large, rounded bottom stainless steel bowl atop a large saucepan filled 1/4 full with water makes a great stand-in for a double boiler.Leftover pudding may be beat and poured into popsicle molds for a frosty pudding pop.
Courses Dessert
Recipe by gfe--gluten free easily at https://glutenfreeeasily.com/gluten-free-dairy-free-egg-free-vanilla-pudding-lexies-kitchen/