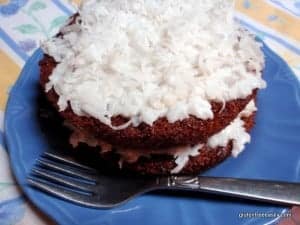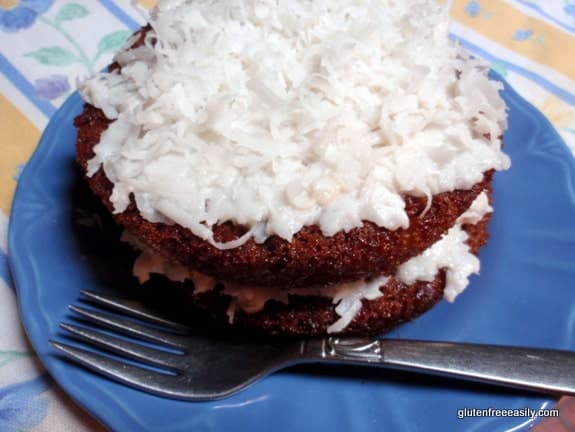 Gluten-Free, Dairy-Free Pineapple Layer Cake with Maple Coconut Whipped Cream Frosting
Ingredients
Pineapple Layer Cake Ingredients
1 1/3 cups almond flour
2/3 cup gluten-free all-purpose flour mix*
1 1/3 cup brown sugar
2/3 cup granulated sugar
2 ½ tsp baking soda
2 large eggs
2 tsp maple syrup
20-ounce can crushed unsweetened pineapple, with its own juice
Maple Coconut Whipped Cream Frosting Ingredients
1 cup coconut "cream," from a chilled can of full-fat coconut milk (read more below)
1 ½ to 2 teaspoons maple syrup (adjust to desired sweetness, may need more if using unsweetened coconut flakes)
Handful of coconut flakes (I used sweetened)
Instructions
Cake Instructions
Preheat oven to 350 degrees. If using small baking dishes, add about ½ tsp coconut oil to each turning them carefully in your hands to ensure oil coats sides. If using a 9 x 13 pan, add about a teaspoon of coconut oil and tilt and coat sides of pan the same way. While mixing ingredients, place your baking dish(es) in preheated oven for 5 minutes.
Mix dry ingredients in large bowl. (FYI: A wooden spoon will work fine for all of your mixing.)
Add eggs and mix well.
Add maple syrup and pineapple with juice. Stir the latter just well enough so that ingredients are mixed.
Pour batter into prepared, hot baking dish(es). (Be cautious. It's easy to forget that dishes are already hot and will burn you if you touch them.)
If using smaller baking dishes, bake for about 25 minutes. If using a 9 x 13 pan, bake for about 30 to 35 minutes. (Check at 30 minutes.)
Remove from oven and cool for about 5 minutes. Use a heat-proof spatula to loosen cake layers, remove layers from dish(es) and place on wire rack. Cool completely.
Frosting Instructions
The day before, chill one can of coconut milk, your mixing bowl, and beaters in refrigerator. (I try to keep 2 cans of full-fat coconut milk in the refrigerator at all times for making ice cream and whipped cream. I've made the frosting without having the bowl and beaters chilled, but it works best if they are.) Skim about one cup of the "coconut cream" off the top ... that's what I'm calling the thick, non-liquid substance that forms when you refrigerate full-fat coconut milk for at least 24 hours in the coldest part of your refrigerator. Add the coconut cream to a chilled bowl. Whip coconut cream with chilled beaters until it reaches its whipped cream state. Gradually add maple syrup. Whip again until it turns to whipped cream with at least soft peaks remaining when you stop whipping. Stir in coconut flakes or sprinkle them on top of whipped cream after spreading on each cake layer.
Notes
Ramekins can be used if you want a much smaller layered cake or even several single-layered cakes with frosting. If you'd prefer to use gluten-free all-purpose flour, omit the almond flour and use 2 cups of gluten-free all-purpose flour. If using gluten-free all-purpose flour, you may need to add an additional 5 minutes of baking time. When made with almond flour, the cake (or layers) will be thinner than if made with gluten-free all-purpose flour. They will also be denser and moister. I cheated (as I usually do) and placed my layers in the freezer for a few minutes to expedite cooling. While I've never made this cake egg free, I believe it will work with the usual egg substitutions. I used a new brand of coconut milk, which didn't yield my usual fluffy whipped cream. Your frosting results may look slightly different and hopefully better!* I still can't tolerate many of the healthier, gluten-free flours; e.g., sorghum, buckwheat. Therefore, my gluten-free flour mix is 3 parts Asian white rice flour and 2 parts cornstarch. I gently mix three one-lb bags of the Asian white rice flour and two one-lb boxes of cornstarch in a very large bowl and then store the mix in several airtight containers (like large glass jars). No refrigeration is needed. But feel free to use whichever gluten-free all-purpose flour mix you use most often for your baking.
Courses Dessert
Recipe by gfe--gluten free easily at https://glutenfreeeasily.com/gluten-free-dairy-free-pineapple-layer-cake-with-maple-coconut-whipped-cream-frosting/