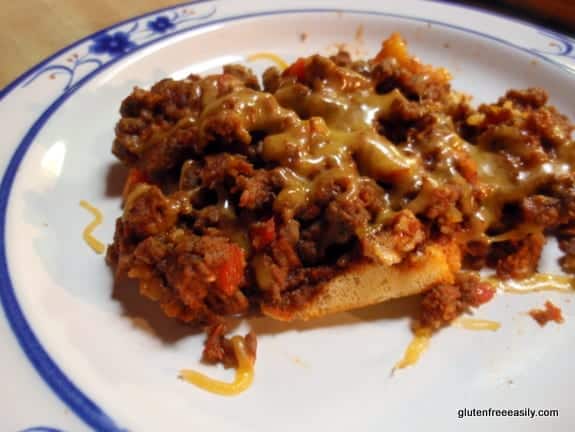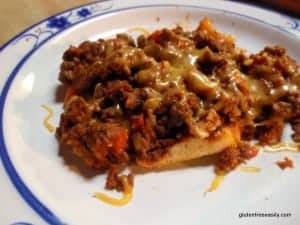 Gluten-Free Taco Popover Supper
Get your taco fix with this delicious one-dish gluten-free Taco Popover Supper! The crust bakes on top so you flip the slices as you serve them.
Ingredients
For Base Layer
One pound ground beef (or ground turkey, venison, etc.; I used ground venison)
1 can (15 ounces) tomato sauce (or similar; see notes)
up to 1 cup chopped bell pepper (your choice; I use a green or red bell pepper)
2 tbsp chili powder
½ tsp onion powder (or 2 tbsp chopped onions)
1 tsp salt
½ tsp ground cumin
1 clove garlic, minced or crushed
½ tsp pepper
1 tsp dried parsley flakes
2 cups shredded cheddar cheese (or dairy-free substitute, both are optional; cheese may be added later after cooking instead if you prefer or again be omitted completely … see notes)
For the Topping
2 eggs
1 cup milk (dairy or non-dairy, I use almond milk)
1 tbsp vegetable oil
1 cup gluten-free all-purpose flour (I use my Two-Ingredient Gluten-Free Flour Mix)
½ tsp xanthan gum
½ tsp salt
Instructions
Preheat oven to 425 degrees Fahrenheit.
Cook ground beef and drain.
Stir in tomato sauce, bell pepper, 2 tbsp flour, chili powder, onion powder, salt, cumin, garlic, pepper, and parsley flakes. Bring to a boil and stir about one minute.
Pour into ungreased 13 x 9 baking dish.
Sprinkle cheese on top, if desired.
Beat eggs, milk, oil, 1 cup flour, xanthan gum, and salt until smooth, but don't overbeat. Pour batter over all.
Bake about 25 to 30 minutes or until puffy and golden brown. Let stand about 5 minutes before cutting.
Cut into squares and serve immediately, flipping squares as you plate them, so that the popover crust is on the bottom.
Immediately top with any additional toppings you would like.
Notes
Bell Pepper - I use more or less bell pepper depending upon how much I have on hand and how much flavor I want to add. With ground venison, I usually use less bell pepper, but with ground turkey, I'd use more.
Flour - Feel free to use whichever flour mix you use most often for baking. I use my Two-Ingredient Gluten-Free All-Purpose Flour Mix. 
Cheese - If you opt to leave out the cheese when assembling your Taco Popover Supper, individuals can then top their "hot out of the oven" squares with dairy cheese or dairy-free "cheese" after flipping them onto their plates.
I spread some Majestic Garlic Spread (Sun-Dried Tomato Jalapeno Pepper flavor) on my meat mixture before I poured the batter over all. This flavor of Majestic Garlic Spread give a cheesy taste and mouth feel even though it's a vegan (and raw) product. I could also have mixed some of that spread in at the end with the meat mixture before spreading it in the baking pan.
If there are certain ingredients that mean tacos to you--like chopped black olives, chopped raw onion, and/or a dollop of sour cream--and you can't live without them, feel free to add them once your taco popover serving is on your plate.
Some gfe readers may recognize this recipe as being very similar to both my Popover Pizza recipe and my Volcano (Popover) Pancake. I love Popovers in all forms!
Recipe by gfe--gluten free easily at https://glutenfreeeasily.com/gluten-free-dairy-free-taco-popover-casserole/