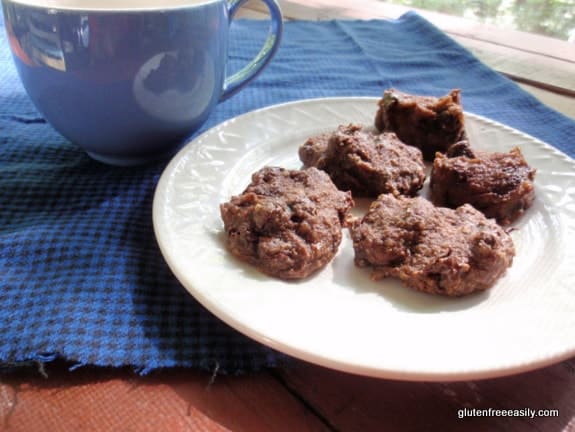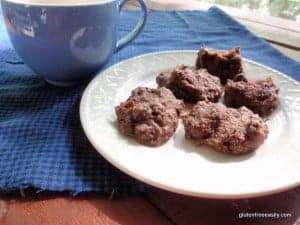 Double Chocolate Banana Truffle Cookie Bites
Instructions
Preheat oven to 350 degrees Fahrenheit. Line two baking sheets with parchment paper.
In a large bowl, mix all ingredients well. If going with the coconut flour option, allow the batter to sit a few minutes to thicken on its own.
Use a spoon to drop cookie batter in small amounts on parchment-lined baking sheets. Batter will not spread much (if at all) so be sure to drop the batter in the shape you want. Because the batter doesn't spread, you don't have to leave much room between the cookie bites.
Bake for about 8 to 10 minutes until cookie bites look set.
Remove baking sheet from oven and let cookie bites sit on the baking sheet an additional 10 minutes (or so) before removing to cool.
Makes about 18 to 20 cookie bites about 1 1/2 to 2 inches in size.
Notes
Because these are very moist, they should not be stored in a closed container. I left mine in an uncovered cookie tin on the counter. Quinoa flakes have a somewhat strong flavor. I like them and think the flavor complements the chocolate in this recipe, but if you have not enjoyed quinoa flakes previously, you're unlikely to like them in this recipe. Almond butter, peanut butter, or Sunbutter really makes a big difference to this recipe, giving it the true truffle factor. Coconut flour adds both sweetness and binding, but it can be omitted if you don't eat coconut. (Dry milk powder could *probably* be used instead if you'd like.) I enjoy the nut-free nuttiness and added nutrition of hemp seeds in this recipe (especially when combined with quinoa flakes or oats), but they are not a required ingredient.
Recipe by gfe--gluten free easily at https://glutenfreeeasily.com/gluten-free-double-chocolate-banana-truffle-cookie-bites/