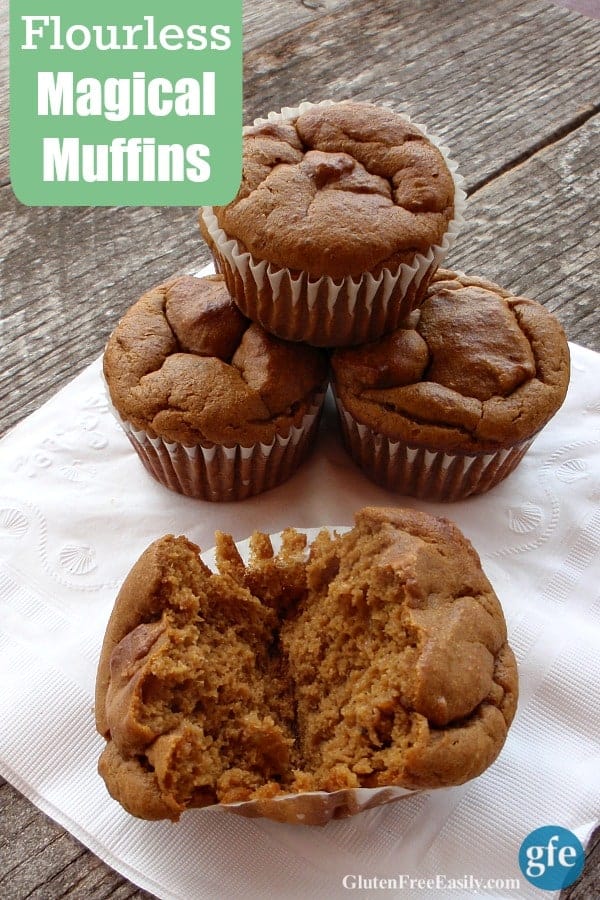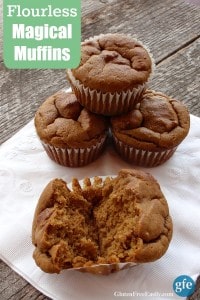 Gluten-Free Flourless Magical Muffins
Yield 18
These gluten-free flourless, 5-ingredient muffins are simply amazing! They're not only gluten-free but also dairy free and paleo friendly.
Instructions
Preheat oven to 375F and prepare muffin tins (by greasing them or adding paper or foil muffin liners).
In a large mixing bowl, add all ingredients. Using hand mixer, mix ingredients until blended and creamy.
Spoon batter into muffin tins until each is almost full.
Bake for about 15 minutes. Test doneness with toothpick.
Cool for about 15 minutes before eating.
Notes
Recipe makes 18 muffins.
I believe you can use any fruit butter in combination with any nut butter, peanut butter, or possibly even Sunbutter in this recipe if you consider the flavor combinations.
Flax gel eggs (4 tablespoons finely ground flaxseed mixed with 2/3 cup water and allowed to gel) were used in the original recipe successfully so you should be able to use them here. However, also add 1 tsp apple cider vinegar to the recipe if using flax gel eggs. I was able to omit that in my recipe, but it will be needed for a flax gel version.
Adapted from Sneaky Chocolate Peanut Butter Muffins from ChaCha's Gluten-Free Kitchen.
Courses Breakfast, Dessert
Recipe by gfe--gluten free easily at https://glutenfreeeasily.com/gluten-free-flourless-magical-muffins/