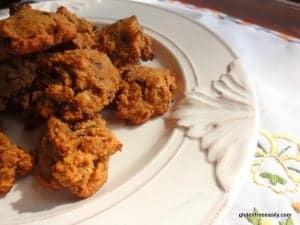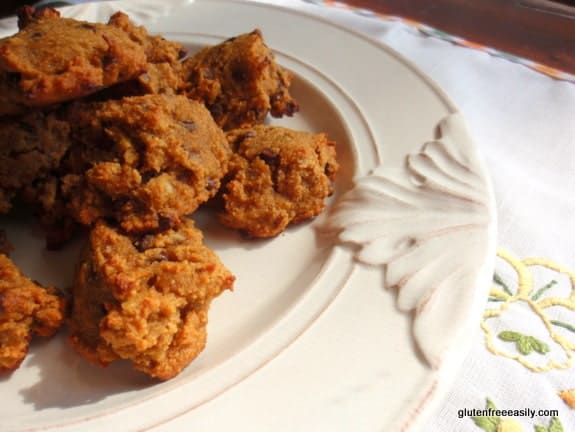 Gluten-Free Pumpkin Honey Chocolate Chip Cookies
Adapted from the National Honey Board's Pumpkin Honey Spice Cookies recipe, these cookies are also dairy free with a refined sugar free option.
Instructions
Heat oven to 350°F. Grease or line baking sheets with parchment paper.
In a large bowl, add dry ingredients and stir with wooden spoon. Add in other ingredients and mix until incorporated.
Drop tablespoons of dough onto prepared baking sheets, leaving about 1 inch between them.
Bake about 13 minutes or until somewhat firm to the touch and light brown. Cool on pan 5 minutes. Transfer to wire rack to cool completely.
Notes
For more even baking and slightly flatter cookies, you may wish to press down the batter with a spatula after you've scooped it onto your baking sheet.
I suspect that any egg substitutes would work in this recipe, but that's just a guess; I haven't tried any yet.
Be sure to use a grain-free baking powder (link in recipe) or grain-free baking powder substitution to make these cookies completely grain free. A common substitution for baking powder is a mix of baking soda, cream of tartar, and arrowroot, but truthfully, you don't need the arrowroot and you need less of the baking soda and cream of tartar combination than you do actual baking powder. So the following is not only a grain-free tip, it's also a frugal one.
For every teaspoon of baking powder needed in any recipe, add ¼ teaspoon of baking soda and ½ teaspoon of cream of tartar. In this recipe, I'd just go ahead and substitute for the higher amount of baking powder, using ½ teaspoon of baking soda and 1 teaspoon of cream of tartar. Do not make this up in advance as the mixture does not keep well. I learned this tip from The Tightwad Gazette many years ago, when author Amy Dacyczyn was still publishing her newsletter of that name. But The Complete Tightwad Gazette, a compilation of her very helpful newsletters, is still available.
Recipe by gfe--gluten free easily at https://glutenfreeeasily.com/gluten-free-grain-free-dairy-free-refined-sugar-free-pumpkin-honey-chocolate-chip-spice-cookies/