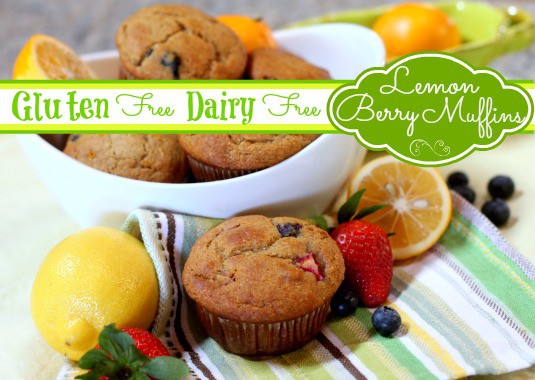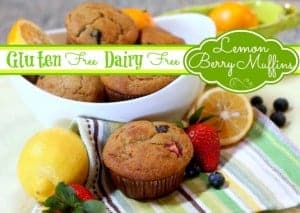 Springtime Lemon-Berry Muffins from Cook IT Allergy Free
Yield 16
These muffins have the perfect hint of spring with the pairing of the citrus and the berries. They are also a great addition to an Easter brunch. They are light and moist and packed with healthy ingredients that will not give that blood sugar spike that many baked goods can give.
Ingredients
1 ½ cups Almond Flour (For Nut Free: Use 1 1/2 cups of your favorite Gluten-Free All Purpose Flour Blend)
1 cup Superfine Brown Rice Flour
½ cup Teff Flour OR Certified Gluten Free Oat Flour
¼ cup Arrowroot Starch
2 ½ tsp Baking Soda
1 tsp Baking Powder
½ tsp Sea Salt
1 ¼ cups Plain Yogurt (Non-Dairy or Dairy Version; I use SO Delicious Plain Coconut Yogurt)
½ cup Organic Unrefined Coconut Oil (measured in liquid form)
1/3 cup + 2 Tbsp Raw unfiltered Honey, preferably organic
¼ cup Freshly Squeezed Lemon Juice
1 tsp Vanilla Extract
1 Tbsp Lemon Zest (freshly zested/grated – yellow part only)
2 Large Eggs, separated (For Egg-Free: use 2 Tbsp Ground Chia Seeds Mixed with ½ cup HOT water – allow to sit until gelled before using)
1 cup Fresh Berries – such as blueberries, raspberries, or diced strawberries
Instructions
Preheat Oven to 350 degrees. Line muffin pan with liners, or grease openings.
In medium bowl, whisk/mix together Almond Flour, Superfine Brown Rice Flour, Teff (or Oat) Flour, and Arrowroot Starch until light and airy. Add in Baking Soda, Baking Powder, and Sea Salt–whisk until blended and mixture feels light.
In large bowl, beat together Yogurt, Coconut Oil (or melted Butter or Earth Balance), Honey, Freshly Squeezed Lemon Juice, Vanilla, Lemon Zest, and Egg yolks (or Chia Gel mixture).
Slowly mix dry mix into blended wet ingredients. Gently mix together until just blended. Do not overmix. Then fold in berries gently.
Omit this next step if using Egg Replacer: In separate small bowl, beat egg whites until fairly stiff peaks form. Then very gently fold whites into assembled muffin batter until just incorporated.
Fill muffin wells 2/3 full. Bake in oven for 17-19 minutes, or toothpick comes out clean from center. Makes 16 muffins. Enjoy!
Notes
To make these muffins grain free, use all almond flour instead of the combination of almond flour, brown rice flour and teff four AND add an extra egg to the recipe.
Courses Breakfast, Dessert
Recipe by gfe--gluten free easily at https://glutenfreeeasily.com/gluten-free-lemon-berry-muffins-cook-it-allergy-free/