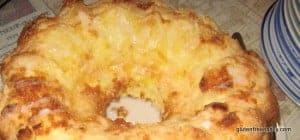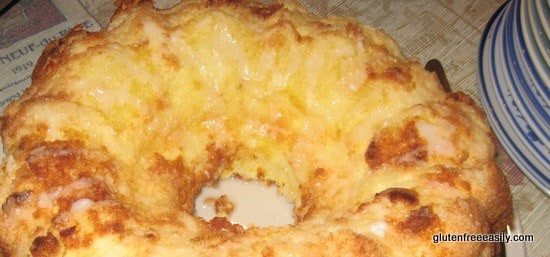 Gluten-Free Lemon Sponge Cake
Sponge cake is a lighter delicious dessert that usually only gets made on very special occasions. The lemon factor and glaze for this cake make it very special indeed! Note that when this cake is made using potato starch and the glaze is made using potato starch or arrowroot, this recipe is also grain free and ideal for Passover.
Ingredients
Cake
7 eggs
1 1/2 cups sugar
1 1/2 tbsp fresh lemon juice
1 1/2 tsp lemon rind
3/4 cup cornstarch or potato starch, sifted
dash of salt
Lemon Glaze
1/2 cup powdered sugar
1 tsp cornstarch (or potato starch or arrowroot starch/flour, plus more if needed for thickness)
3 tsp lemon juice
water to desired consistency
Instructions
Separate six of the eggs. Beat the six yolks with the one whole egg until frothy.
Gradually add in the sugar, lemon juice, and lemon rind and beat thoroughly until all ingredients are incorporated. Gradually add the cornstarch, stirring constantly to ensure all is mixed through.
Beat the egg whites with the salt until stiff, but not dry (Steve notes that if you have a free standing mixer, you can have the egg whites beating while you mix the yolk mixture, as a timesaver).
Fold the egg white mixture gently, but thoroughly into the egg yolk mixture. (Folding is not my forte, but I managed. LOL)
Pour into a greased 10-inch tube or Bundt pan.
Bake at 350 degrees for 55 minutes, or until the cake springs back when touched.
Invert pan and cool thoroughly before removing cake.
If you want to use a lemon glaze, mix together powdered sugar with lemon juice and cornstarch in a small bowl until you get a good consistency. Drizzle over the cake and let glaze set up before serving.
Courses Dessert
Recipe by gfe--gluten free easily at https://glutenfreeeasily.com/gluten-free-lemon-sponge-cake/