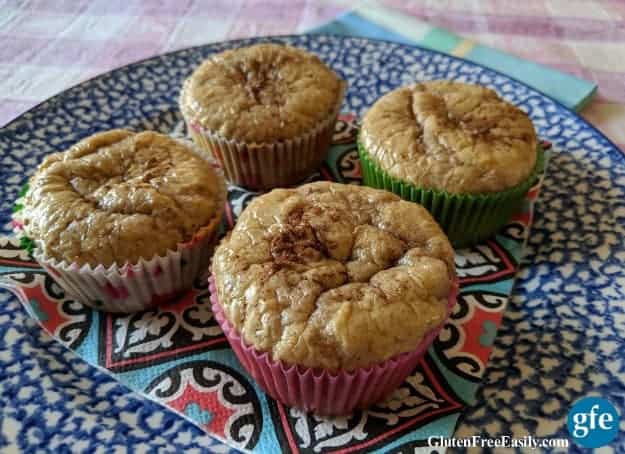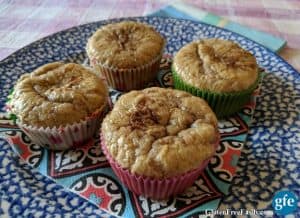 Low-Carb Cinnamon Swirl Muffins (Keto)
Vivica says: "This is a great variation of the classic cinnamon swirl bread … with none of the sugar or gluten! You will love these muffins for breakfast or on the go."
Ingredients
4 large eggs
½ cup (135 g) cashew butter
½ cup (50 g) crushed pecans
3 tbsp (36 g) Lakanto or erythitrol, divided (see notes)
2 tsp (10 g) aluminum-free baking powder
1 tsp ground cinnamon
1 tbsp (12 g) coconut oil, melted
Instructions
Preheat oven to 300F degrees (149C degrees).
In a food processor, mix the eggs, cashew butter, pecans, 2 tablespoons (24 g) of sweetener and baking powder until a smooth batter is formed.
In a small bowl, mix 1 tablespoon (12 g) of sweetener, cinnamon, and coconut oil until well blended, for the swirl.
Place 8 paper muffin cups in a muffin pan. Put about ½ tsp of the swirl mixture in the bottom of every cup. Fill the cups evenly with the batter, then pour another ½ teaspoon of swirl on top of the batter and carefully swirl the batter with a toothpick.
Bake for about 15 minutes, or until toothpick comes out clean from the middle of the muffin. Do not overbake or the muffins will be dry.
Cool completely before removing from muffin tin.
Notes
Makes 8 muffins.
LAKANTO and erythritol are both natural sugar substitutes known to cause little or no insulin response when consumed, as sugar does. Both are readily available in health food stores, the health food section of most commercial grocery stores as well as online through Amazon and other sources. LAKANTO is a brand name sugar substitute that included erythritol. Erythritol is something different, as is Swerve, and they are used for different purposes, usually regarding desired sweetness level.
Reprinted with permission from The Keto Paleo Kitchen by Vivica Menegaz, Page Street Publishing Co. 2017.
Shirley here:
If you don't eat low carb/keto, you can substitute any granulated sugar for the sweetener. I used light brown sugar.
I also doubled the amount of the swirl ingredients and sprinkled additional cinnamon on top of the batter in each muffin cup before baking.
I used a hand mixer instead of a food processor to mix ingredients. That worked just fine.
"Old school" wisdom says to never bake muffin cups empty because doing so can cause your muffin tin to warp so I add a little water to each empty cup (about 1/2 inch).
The longer these muffins cool, the more they will look and taste like a flour-based recipe.
Recipe by gfe--gluten free easily at https://glutenfreeeasily.com/gluten-free-low-carb-cinnamon-swirl-muffins-keto/