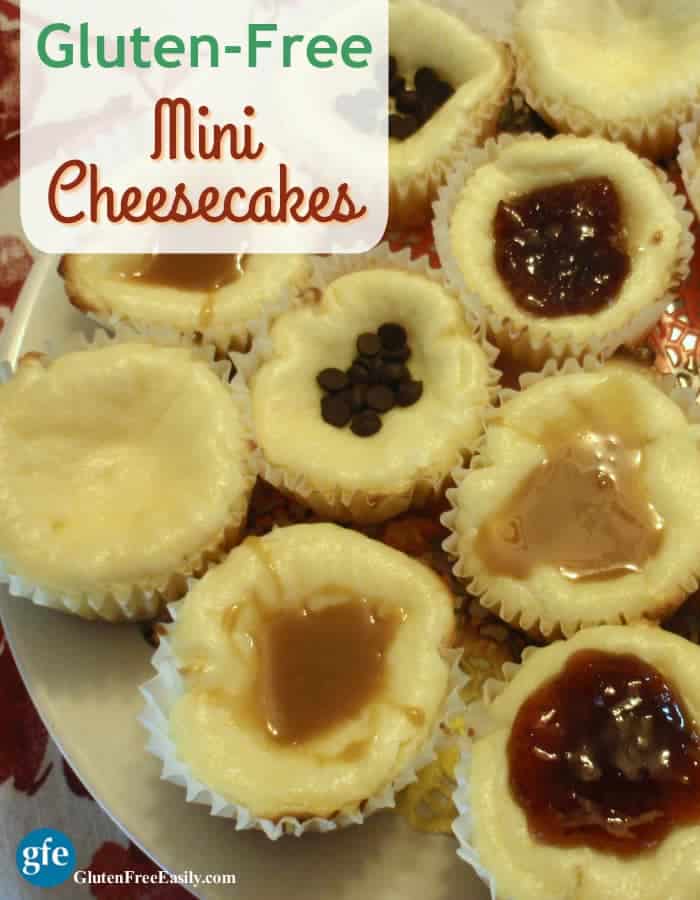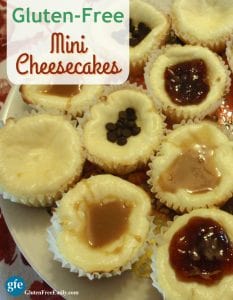 Gluten-Free Mini Cheesecakes
You might never make a full-size cheesecake again, once you discover how easy it is to make these gluten-free mini cheesecakes and how easy it is to top them per individual preferences!
Ingredients
Batter
Crust
Toppings
Instructions
Preheat oven to 350F. Line muffin tin with baking cups.
Break off cookies until they fit in bottom of the baking cups. Set aside the pieces you've broken off to use for the last three cheesecakes.
Using your fingers, crush the remaining cookie right in the baking cup until it is finely "ground" and evenly spread out the crumbs.
In a large mixing bowl, cream sugar and softened cream cheese. Add in eggs and vanilla extract. Using a hand mixer, mix all well.
Spoon mixture into baking cups, filling all evenly---to about ¾ full.
Bake 20 to 25 minutes. (Important: If you find that your cheesecakes are browning too quickly, lower oven temperature to 325F for the last 5 to 10 minutes.)
Remove cheesecakes from oven.
If you have a topping that you want to melt slightly (e.g., chocolate chips) or an ingredient that needs to stick to the cheesecake (e.g., sliced almonds); add the topping immediately after removing the cheesecakes from the oven. Otherwise, cool cheesecakes completely before topping and then refrigerate until serving.
Notes
Makes 12 individual cheesecakes.Cheesecakes will rise during baking and then sink toward the end of baking time. The indented tops make an ideal reservoir for your toppings.If you would rather not purchase cookies and/or want a grain-free option, you can use finely ground nuts (or ground seeds---such as sunflower seeds or pumpkin seeds) as the base of your individual cheesecakes. If you sprinkle a little more than a teaspoon of nuts/seeds into each of the baking cups, you'll need about 1/3 cup of finely ground nuts.I was pressed for time during Mother's Day, so I placed my cheesecakes in the freezer to cool them more quickly before our celebration. If you read gfe all the time, you know that this is a frequent cooling tactic of mine!
Courses Dessert
Recipe by gfe--gluten free easily at https://glutenfreeeasily.com/gluten-free-mini-cheesecakes/